Fox News Said Ferguson Ignored Shooting of 9-Year-Old Girl. Here's What Really Happened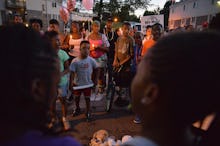 Nine-year-old Jamyla Bolden was shot and killed Tuesday night while doing her homework on her bed in Ferguson, Missouri.
Now, Fox News is using her death to try to discredit local protesters, activists say.
In a report published on Thursday, an article on the Fox News website claimed that St. Louis-area demonstrators expressed "no outrage" over Bolden's murder, but were quick to rally around the death of Mansur Ball-Bey — an 18-year-old black man shot and killed by St. Louis police that same Tuesday:
Fox News has a history of criticizing black activists for focusing on police violence rather than so-called "black-on-black crime."
There's just one problem: The story isn't true.
Thursday night, hundreds of mourners gathered in Ferguson and held a vigil with Jamyla's family. Relatives, friends, protesters and even a few police officers were present, according to KSDK. Johnetta Elzie, a prominent protester and St. Louis native, was one of the locals who attended.
"[Jamyla's] best friends were there, crying," Elzie told Mic. "Her father spoke. Just hearing him talk about how much he loved his daughter — it hurts to know that her life was stolen."
Below is a selection of photographs from the vigil, which included a cluster of balloons being released in Jamyla's honor:
According to the St. Louis Post-Dispatch, Jamyla's killer may have approached the house — which belonged to her grandmother — from a nearby "pass-through trail" before opening fire through a window around 9:30 p.m Tuesday. The child's mother, 34, was also injured during the shooting.
Police have neither named nor apprehended a suspect thus far, and the shooter's motive remains unknown. But as demonstrators in St. Louis continue to clash with police in protests against anti-black state violence — protests that were re-invigorated August 9 with the one-year anniversary of Michael Brown's death — the Fox News story and its framing feel both deliberate and, sadly, unsurprising, says Elzie.
"I'm absolutely not surprised," Elzie told Mic. "Two days ago, when Mansur and Jamyla were both killed, protesters reached out to both families. We stand with these families if and when they ask us to. And they did."
"[Conservative media] would love to say that black people only care about police violence and not other forms," she added. "But it's just not true. Jamyla was killed two days ago. People want an immediate statement ... but they have to realize this is traumatic for the families. They deserve time to process."
"People want an immediate statement ... but they have to realize this is traumatic for the families. They deserve time to process."
Fox News' report comes shortly after several conservative outlets attempted to discredit activist and writer Shaun King. Breitbart initially ran a series of reports questioning King's racial background, claiming he had misled Oprah Winfrey about being black nearly 20 years ago in order to receive a scholarship to Morehouse College. The Daily Caller and the Blaze both picked up the story.
King responded to the accusations on Thursday with a personal essay refuting these claims.
Meanwhile, conservative media's generally oppositional stance to black anti-police protesters has become abundantly clear. The inaccurate report claiming that St. Louis activists did not respond to Jamyla's death is currently the top hit when you Google "Jamyla Bolden." It remains unclear whether the reporter reached out to any protesters or family members before publishing the story.
Fox News did not immediately respond to Mic's request for comment.