'Winds of Winter' 2015: What We Know About George R.R. Martin's Next Game of Thrones Book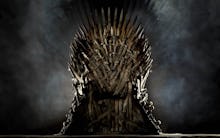 Other than some new casting and location details, the cast and crew of HBO's Game of Thrones have kept mum about the future of the series. Fans of George R.R. Martin's sprawling original book series, A Song of Ice and Fire, have been kept just as nearly in the dark.
After all that waiting, fans are eager to hear what's next. Here's what we know about the next book in the series, The Winds of Winter, so far.
The war with the Others is here, and things are about to go from bad to worse. At the end of book six, A Dance With Dragons, Hand of the King Kevan Lannister noted that snow had begun falling in King's Landing, across the relative south of a pretty big continent. Meanwhile, Jon Snow had just received word of "dead things in the woods ... dead things in the water" at the Wildings' only city, Hardhome, suggesting the Others have already begun marching on the Wall. Martin told Smarter Travel the Others would "definitely" be in the upcoming novel.
Put simply, this war is about to begin in earnest. With much of Westeros either ravaged by war or completely unprepared for the assault that is coming, expect a wave of suffering and death to descend from the North in ways that will make the recently resolved civil war look like a cakewalk.
It's going to be a very long book. It's actually filled with much more political intrigue than the companion HBO series, Game of Thrones, with countless additional plot lines, including the return of a possibly fake Aegon Targaryen, to resolve.
Martin believes both The Winds of Winter and the seventh book, A Dream of Spring, will be around 1,500 pages each.
Ten chapters have already been released. Martin has released six preview chapters, covering the futures of characters like Theon Greyjoy, Arianne Martell, Barristan Selmy, Tyrion and the Stark girls, Arya and Sansa. He has also read four chapters of the book out loud to fans at various conventions.
Reddit's r/ASOIAF subreddit has a complete compendium of the preview chapters, as well as summaries of those Martin read aloud.
Other unconfirmed chapters will likely cover characters like Daenerys Targaryen, Davos Seaworth and Jon Snow (though Martin definitely hasn't confirmed whether or not the chapter will be a death sequence following the Night's Watch mutiny at the end of A Dance With Dragons).
Ten chapters may seem like a lot to give away. But the longest book in the series, A Storm of Swords, is a shocking 81 chapters long.
It probably won't be out in 2015: Even worse for A Song of Ice and Fire fans, HBO's parallel series Game of Thrones will almost certainly overtake the pace of Martin's writing within two years (in fact, some parts of the show already have).
UK publisher HarperCollins revealed to the Guardian that the book will not be released in 2015. It's implausible but possible Martin will finish the book in early 2016, synchronizing its release date with the premiere of Game of Thrones season six. Even so, that timeline also means Martin will more than likely fail to complete A Dream of Spring any time near the release of the final season of the HBO show in 2017.
Here's a timetable:
Seeing as Martin has never finished a volume of the series in less than two years, it looks like readers might be knowing how the saga ends well before A Dream of Spring (and possibly The Winds of Winter) hits their local bookstores.
There are thousands of theories about what will happen: Fan communities have posited countless explanations of what might happen next, so if you really want to go down that rabbit hole, check out the A Song of Ice and Fire community forums for some painstakingly detailed theories about the future of series.
(Yes, almost all of them involve Jon Snow not being dead.)