Bernie Sanders Plans to Introduce a Bill Banning For-Profit Prisons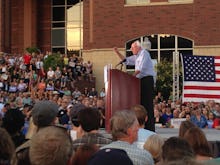 In the past couple of months, Sen. Bernie Sanders (I-Vt.) has taken heat from some quarters of the left for not making criminal justice reform a focal point of his presidential campaign. But increasingly there are signs that he's committed to moving the ball forward on the issue.
According to ThinkProgress, the firebrand democratic socialist announced on Tuesday at a rally that he plans to author a bill outlawing for-profit prisons.
"When Congress reconvenes in September, I will be introducing legislation which takes corporations out of profiteering from running jails," Sanders told a roaring crowd in Reno, Nevada. 
In the past few weeks, Sanders has taken a number of measures to respond to heavy pressure from Black Lives Matter activists, including making "racial justice" one of his major policy priorities and hiring a black national press secretary, who was offered a job after she advised him on how to improve his approach to criminal justice reform. 
A change in approach: At the rally in Reno, Sanders' emphasis on overhauling the prison system was in keeping with his growing emphasis on criminal justice in the past month.
"Our job is to keep people out of jail, not in jail," he told attendees. "And what we also need to do is to understand that when people aren't in jail, we need a rational path for them to return to civil society."
While Sanders' for-profit prison ban legislation announcement is new, he has in the past pledged to ban them if he becomes president.
"Corporations should not be allowed to make a profit by building more jails and keeping more Americans behind bars," says the racial justice section of his campaign website.
One sentence of his policy platform online is of particular note: "Profiting off the misery of incarcerated people is immoral, and it is immoral to take campaign contributions from the private prison industry or its lobbyists."
The politics: That line is a barb directed at Democratic frontrunner Hillary Clinton. According to a report by the Intercept in July, lobbyists for two major enormous private prison companies are "top fundraisers" for Clinton. The former secretary of state does not appear to have taken a stance on for-profit prisons in her campaign so far. But former Maryland Gov. Martin O'Malley has come out against them.
Despite a troubling record of poor management, prisoner neglect, higher recidivism rates and a tendency to lengthen prisoner sentences, for-profit prisons are good business. The industry has soared in the past several years, and they take in more than $3 billion in revenue a year. For-profit prisons house about 7% of the state prison population and close to a fifth of federal prisoners, and nearly two-thirds of detained immigrants.
Sander's aggressive stance on for-profit prisons should bring more attention to this overlooked aspect of the criminal justice system. You can watch the second half of his speech in Reno here: