These Alaskan Sex Workers Have Launched a Social Media Campaign to Free a Madam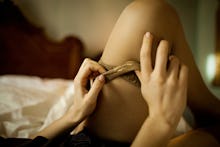 On Aug. 14 in Anchorage, Alaska, a judge sentenced Amber Batts to five and a half years of prison for violating her probation and, chiefly, sex trafficking. Batts ran a prostitution website, SensualAlaska.com, and was essentially in charge of organizing transactions for sex workers.
A prostitute coming to a madam's aid might not seem like the most common thing, so some may be surprised to discover the sex workers Batts represented are rallying against the sentencing and have launched an aggressive social media campaign to set her free. These women argue Batts provided a safe working environment. 
The protest has come in the form of a hashtag, #WhoresUnited907, and an online petition, calling on Alaska to repeal its sex trafficking laws, which they argue negatively impact sex workers and is largely the basis for Batts' sentencing.
"Amber Batts will be sentenced to four to 10 years in prison for providing safety services to sex workers, including a safe work environment and extensive screening of new clients," Tara Burns, a sex worker-turned-activist who is leading the campaign, wrote on the petition's webpage. On Friday, Burns tweeted she had collected 36,000 signatures.
"Under federal law, sex trafficking involves force, fraud or coercion, but under Alaska's new law, all prostitution is sex trafficking," Burns wrote in the online petition. "In its first few years, the law was used exclusively against sex workers who were charged with prostitution of themselves in the very same cases they were charged with sex trafficking."
Burns told Mic she had been a sex worker for 20 years, and that legal policy has played a major role in that part of her life. 
"After 20 years, you look back and you see these things that happened to you [as a sex worker] are all part of policy," Burns told Mic.
"Batts was a sex worker herself who was just working with other sex workers to increase their safety," Burns continued. "And it's devastating for the women to not have someone protecting them or screening their clients. There was a safe system in place and sex workers are otherwise so vulnerable [to assault]."
Burns and her compatriots made T-shirts advertising their hashtag, #WhoresUnited907, and wore them to court during Batts' trial to raise their campaign's profile.
The hashtag took off on Twitter as supporters of Batts and greater legal protection for sex workers used it to share their concerns. 
A prostitution constitution: The trouble with the existing Alaskan sex trafficking laws introduced in 2012 is they don't sufficiently protect sex workers, a population which is already extremely vulnerable, Burns said. While there are laws banning prostitution, in most jurisdictions they are distinct from sex trafficking laws, which are supposed to be directed at traffickers who smuggle people against their will. Alaska's statutes blur that line, making all sex workers vulnerable to prosecution for sex trafficking.
"I thought it was really bad for sex workers and I thought some of us would be collateral damage, but some people in real need would be rescued, so that would justify it [the law]," Burns said.
However, in December 2013, Burns made a request for public records regarding people who were charged with violating this new law and she discovered every person charged was a sex worker, and never the John. Burns found that one woman was even charged with sex trafficking her own self. At this time, Burns decided to take a stand and began lobbying for new laws, offering sex workers greater protection. 
She even registered as a representational lobbyist, and while she hasn't found success in affecting legislative change yet, she is optimistic Alaska will come around. A native of the state herself, Burns said her fellow Alaskans are good people, with good hearts, who "will do the right thing."
A global epidemic: Burns' efforts speak to a larger global struggle of providing greater protection to sex workers.
Sex workers across the world are often not afforded legal rights or protection, and they become more vulnerable on many levels — from susceptibility to STIs to abuse to financial insecurity. Sex workers are 12 times more likely than the general population to have HIV, a 2014 UNAIDS report found.  
"Stigma and discrimination, violence and punitive legal and social environments are key determinants of this increased HIV vulnerability," the UNAIDS report states. "Punitive environments have been shown to limit the availability, access and uptake of HIV prevention, treatment, care and support for sex workers and their clients." 
On Aug. 11, Amnesty International decided to include the protection of sex workers' human rights in their mandate. "Sex workers are one of the most marginalized groups in the world who in most instances face constant risk of discrimination, violence and abuse," Salil Shetty, secretary general of Amnesty International, said in a statement.
The benefits of providing legal rights to sex workers are multifarious. In New Zealand, for example, sex workers felt empowered after the 2003 decriminalization to report assault when they did not before. According to a New Zealand government report on the efficacy of the country's decriminalization of prostitution, sex workers were 70% more likely to report violence to law enforcement after the law was changed.
"Amnesty International just joined Human Rights Watch, the Global Commission on HIV and the Law, the UN Special Rapporteur on the Right to Health, the United Nations Development Programme, UN Women and UNAIDS in recommending protecting the human rights of sex workers by decriminalizing every aspect of adult consensual sex work," Burns notes in her petition to amend the sex trafficking law.
"It's time for Alaska to, at the least, stop making safety a jail sentence for women in the sex trade."
Correction: Aug. 27, 2015