Donald Trump Calls Martin O'Malley "a Pathetic Baby" for Listening to Black Lives Matter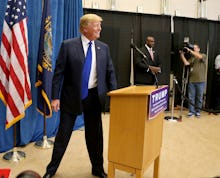 Former Maryland Gov. Martin O'Malley is struggling to catch fire with primary voters, but with a bit of grandstanding this week in Las Vegas, the Democrat has successfully inflamed Republican frontrunner Donald Trump.
In excerpts of a Fox News interview scheduled to air Saturday night, Trump lashed out at O'Malley for apologizing to Black Lives Matter protesters last month after saying "black lives matter, white lives matter, all lives matter" during a confrontation at a Netroots Nation gathering in Arizona.
O'Malley responded "like a little baby, like a disgusting, little, weak, pathetic baby," Trump said in a clip aired Friday morning on Fox and Friends, according to Politico.
"How can you apologize when you say 'black lives matter' — which is true — 'white lives matter,' which is true — 'all lives [matter]' — which is true," Trump asked during his conversation with Justice With Judge Jeanine host Jeanine Pirro. "And then they get angry because you said white and all... we don't want you to mention that. What's he need to apologize for?"
The comments come less than two days after O'Malley trolled Trump outside the billionaire's Las Vegas hotel, where he was joined during a press availability by employees seeking to join a local culinary union.
O'Malley, who was in Nevada for a meeting with the AFL-CIO, told reporters he chose the provocative location "because I think that there are no two greater contrasts between an economy that works for all of us and the sort of economy that Donald Trump would seek to have the Republican Party construct in the United States."
Dialing in on The Donald: Trump's rant "speaks volumes about the Republican Party today," O'Malley deputy campaign manager Lis Smith said in an emailed statement Friday morning. "This is their frontrunner."
Indeed, Trump is leading the GOP line on a range of issues, most notably immigration. In a policy platform published last week on his campaign website, Trump endorsed an interpretation of the 14th Amendment that would end birthright citizenship for the children of undocumented immigrants.  
As former Florida Gov. Jeb Bush noted Thursday, fellow candidates Sens. Ted Cruz (Texas) and Marco Rubio (Fla.), both born to noncitizen parents, would be ineligible to run for president under Trump's plan. Still, Cruz has enthusiastically backed Trump's position, as has Louisiana Gov. Bobby Jindal and Ben Carson. 
Rubio opposes repealing birthright citizenship, but said he was "open" to taking measures to prevent people from "deliberately" entering the country to give birth, thus guaranteeing citizenship for their child.
Sound familiar? This is the second time Trump has mocked a candidate for the Democratic presidential nomination for deferring or engaging carefully with members of the Black Lives Matter movement. 
During a press conference Aug. 11 in Michigan, Trump took aim at Sen. Bernie Sanders, the Vermont independent, for ceding the stage at a rally in Seattle after two protesters took over the podium.
"That showed such weakness," Trump said. "The way he was taken away by two young women — the microphone! — they just took the whole place over. I felt badly for him, but it showed that he's weak."
Trump promised then that he would hold his ground if ever confronted in a similar manner.
"I don't know if I'll do the fighting myself or other people will," he said. "But that was a disgrace."
Sanders shifted his rhetoric in the aftermath of the Seattle showdown, his second poorly managed run-in with Black Lives Matter protesters after he too was interrupted during a Netroots Nation event. He has since hired a black criminal justice advocate named Symone Sanders as a spokeswoman and policy aide and added a "Racial Justice" tab on his official campaign website.