Noel Biderman, Ashley Madison Founder, Thinks Infidelity Will Save Marriages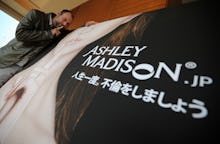 Noel Biderman, the founder of extramarital dating website Ashley Madison, has made a career out of helping people cheat. The Canadian Internet entrepreneur and CEO of Avid Life Media, which owns the website, has called himself the expert on infidelity. 
He's also argued in his first book, titled Cheaters Prosper: How Infidelity Will Save the Modern Marriage, that affairs could actually save marriages. 
"Infidelity has always been amongst us," Biderman told USA Today in February 2014. "What I hear from the women in particular on my site and even the men is, 'I love my partner. I cherish my kids. I can't stand what doesn't happen in the bedroom.' Most people are not willing to give it all up for a one-night stand or encounter. What I'm saying is the majority of people having affairs are looking to preserve their marriage — not to leave it."
In the book, the Globe and Mail reported, Biderman refers to monogamous matrimony as a failed "social experiment." Biderman says on his website he's been "happily married" for 12 years. 
"What I'm trying to say is that the institution of marriage has not always been monogamous," Biderman told the Globe and Mail in 2009. "At one time or another it embraced polygamy as a standard, and it still does — the president of South Africa has multiple wives. Many cultures are still happy to condone that kind of approach. It's a very modern phenomenon to marry for love [and that] you have to be monogamous. Who made that determination? I don't know that any research was put into it."
And in a 2013 interview with Canadian business news series The Lang and O'Leary Exchange, Biderman compared himself to a marriage counselor making money helping couples stay together. He also argued there's more money to be had in the business of cheating than in the business of singles matchmaking. 
"There's more people in a relationships that are discontent with that relationship than there are single people looking to get into relationships," Biderman told the show's hosts. 
Biderman has been the public face of Ashley Madison since it launched in 2001. The website boasts some 40 million unique users from all over the globe, many of whom paid between $49 and $259 to seek out someone with whom to cheat. 
There's also a $19 fee to delete an account, a feature that may not have actually worked. Ashley Madison has drawn widespread attention in recent days after hackers leaked the personal information of millions of alleged Ashley Madison account holders.
The massive data breach included the names, email addresses, credit card transactions and addresses of the site's users, and revealed which cities around the world had the highest number of Ashley Madison accounts, among other things. 
Contrary to Biderman's claim that infidelity could keep couples together, at least some married men and women are parting ways over the data leak, the Times of London reported. Divorce proceedings between people whose partners were involved in the hack began in the United Kingdom this week, according to ITV News.