'Fear the Walking Dead' 2015: Latest News, Trailers and Premiere Date for AMC Series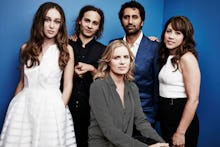 Can't get enough zombie?
Fans of AMC's The Walking Dead are gearing up for the Sunday premiere of a new companion series to the critically acclaimed zombie show. 
Fear The Walking Dead explores the apocalyptic transformation the world underwent prior to it becoming the wasteland seen in The Walking Dead. With an entirely new cast of characters, the show will offer a new perspective of what actually happened before characters like Rick, Michonne and Glenn began to roam the land and fend for themselves.
AMC released a three-minute trailer for the new show at 2015 Comic-Con. The trailer introduces viewers to Kim Dickens (Madison Clark), Daniel Salazar (Rubén Blades), Ofelia Salazar (Mercedes Mason) and Travis Manawa (Cliff Curtis).
The series begins as an outbreak of an unknown disease tears apart the families and lives of the show's main characters, who already seem to have enough baggage as it is. As the beginning of the end of the world seems imminent, the characters must make some tough decisions and adapt to an ever-changing society.
Sunday's premiere will be a special 90-minute episode, according to ComingSoon.net. AMC released its opening scene Thursday: 
AMC's official website also features character portraits, games and behind-the-scenes photos for audiences still itching for their Walking Dead fix.