Frank Ocean Cancels FYF Fest Appearance, 'Boys Don't Cry' Album Still Missing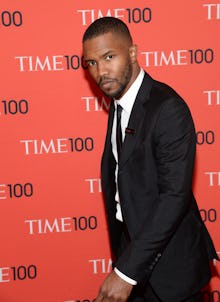 After canceling his performance at the FYF Music Festival less than two days before the concert and skipping over the promised July deadline for his new Boys Don't Cry album, Frank Ocean is starting to become "the one that got away" in the music world. 
Ocean was set to headline the popular Los Angeles festival before his publicist released a statement early Friday morning, one day before the show: "We're really sorry that due to a scheduling conflict beyond our control, Frank Ocean is not going to be able to appear at FYF Festival as planned. Frank had really been looking forward to the performance and to seeing all of his fans, so it is with great regret that we announce this cancellation."
FYF Fest also released a statement, appearing unamused by the performer's continued secrecy: "Frank Ocean has decided on his own terms to cancel his appearance."
Fans expecting Ocean at the concert will instead be seeing Kanye West, who is covering the 75-minute slot for the hip-hop crooner, according to Entertainment Weekly. West has been receiving similar backlash online for shedding little light on his latest project, titled Swish. The two have yet to announce release dates for their new albums, but at least West has been somewhat vocal, appearing in Rihanna's "FourFive Seconds" and dropping a few EPs including "Only One" with Paul McCartney and "Wolves," featuring Vic Mensa and Sia. 
As Spin notes, Ocean has remained relatively silent for the most part, giving fans next to nothing since his last studio album three years ago. 
Ocean posted a picture on his Tumblr account of himself holding what appears to be his latest project, along with the caption, "I got two versions. I got twooo versions... #Issue 1 #Album 3 #JULY2015 #BOYSDONTCRYMAGAZINE." He then appeared to completely disappear, and has yet to have a single performance since missing the July album release date (cue the Internet freaking out). 
So far, the only update has come from his younger brother, who pranked fans with an Instagram post earlier in August saying the album was finally released. When fans visited the link his sibling included, they were Rickrolled with the 1987 classic "Never Gonna Give You Up" on iTunes.
Now it seems as though fans are becoming rather frank with Ocean, as Spin writes, "There's a thin line between secrecy and irrelevancy. Frank Ocean's tipping over to the other side."