If You Love Kendrick Lamar's Album, Wait Till You Hear This Revolutionary New Rapper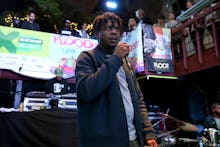 Kendrick Lamar's To Pimp a Butterfly caught hip-hop completely unaware when it dropped in March. Lamar's verses provided vital and unapologetically radical takes on institutional and cultural racism, which drew praise from his city and ire from Fox News. His beats made jazz feel radical again. 
Yet Lamar is far from the only one combining jazz and political hip-hop — he just managed to do it the biggest in recent memory. Numerous artists, such as Flying Lotus, Terrace Martin and Shabazz Palaces are pushing similar missions to great effect, and Chicago's Mick Jenkins is proving to be one of the most dynamic.
Jenkins released Friday his sophomore effort, an album titled Wave[s], with nine tracks that are a deluge of deconstructed jazz-tinged instrumentals, dense wordplay and insight. The album positions him as a deeply introspective, philosophical rapper — though one who's not afraid to drop Austin Powers allusions into a song about societal power structures. It's a good introduction to Jenkins' style, as it has a decidedly less dense and didactic bent than his previous work, 2014's Water[s]. What Wave[s] loses in political critique, however, it makes up for with good vibes and better hooks.
"They say I be talking about water too much," Jenkins raps on the album's opening track. It's far from the intoxicating liquids hip-hop has long focused on, but it's been a running metaphor throughout Jenkins' career. It's "more important than the gold," as he rapped on 2014's "The Waters" — it can "heal" the body and "soothe" the soul. Jenkins aims for his lyrics to have the same effect.
"I was asked before what I want to be remembered as, and I would want to be remembered for helping people. A lot of music that I make, the message is healing," Jenkins told Red Bull Sound Select earlier this year. "I know that the basic metaphor for water is that water represents truth, and we just tried to manipulate that in as many ways as we can."
The first two tracks on Wave[s] are like a splash of water to the face, waking the listener and encouraging them to think critically about life. "Don't ever be scare to make mistakes, that's how you grow," Jenkins raps on "Slumber." "And avoiding the same mistakes you made is how you know/ You moving forward, it's about progressing, I'm learning lessons." 
As hallmark as the lines sound on the page, they hit a lot harder over the "art trap" jazz beat produced by Chicago music collective THEMpeople. Jenkins never stays in this preachy realm long. His verses weave between seeking substance and good vibes, resulting in some of the most enlightening party music out today.
Less politics, more good times: Wave[s] is far less explicitly political than his previous works. In December, Jenkins released "11," a look at race relations and the systematic repression of alternative narratives in this country. The title draws on the number of times Eric Garner repeated "I can't breathe" as police held him in an eventually fatal chokehold. "The color blind only see the black and white/ I'm telling y'all they got a bigger appetite," Jenkins rapped.
Media write-ups painted the song as a centerpiece of Jenkins' musical identity, but it was a depiction that he almost immediately tired of. "'I'm not about to do this 12 more times.' I couldn't keep writing about shit like that" because of the emotional impact it took on him, he told Chicago Reader in March, which introduced him to readers as an artist who raps because black lives matter. "It takes a toll."
Jenkins told the same to Complex in an interview released Wednesday. "I'm just tired of this shit," Jenkins said. "Tired of the fact that it's happening, and tired of the fact that I have to sing about it."
Wave[s] is the sound of Jenkins taking in a breath of fresh air. The politics creep in from time to time, but when they do, they're far punchier and quotable. All in all, the album shows how adaptable Jenkins' songwriting really is. It can go deep, plumbing the most divisive topics imaginable, or lay back to watch the wordplay and hooks drift toward the ceiling. 
If nothing else, this diversity speaks to Jenkins' staying power. A lot of great rappers are coming up out of Chicago these days. Jenkins will be one of the ones that lasts.