Hurricane Danny, Now a Category 3 Storm, Moves Closer to the Caribbean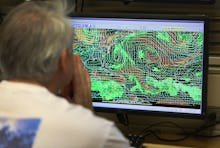 Hurricane Danny jumped from a Category 1 to a Category 3 storm on Friday with winds of at least 115 mph, the National Weather Service's National Hurricane Center announced. Meteorologists expected Danny to reach its maximum strength on Friday and Saturday as it hurtles toward the Caribbean. 
On Friday, the storm was sitting about 900 miles east of the Caribbean's Leeward Islands, the hurricane center said. Meteorologists pulled measurements of its strength from a National Oceanic and Atmospheric Administration aircraft, according to a public advisory from the center. 
When a hurricane reaches Category 3 status, the storm's winds are at least 111 mph, according to the Saffir Simpson scale. Such a hurricane could cause "devastating damage" to infrastructure, homes and the environment should it make landfall. However, officials said Danny was not currently a threat to any landmass, the Associated Press reported. 
Despite its Category 3 status, Hurricane Danny will likely weaken before reaching islands in the Caribbean, according to meteorologists tracking the relatively small storm. "[Hurricane Danny] is moving into an area of unfavorable upper-level winds, and a weakening trend is expected to begin later today," the National Hurricane Center said in a statement. 
Still, the center advised those living in the Leeward Islands to "monitor the progress of Danny" over the weekend. 
Hurricane Danny was the fourth named storm and first hurricane of the 2015 Atlantic hurricane season. The last major hurricane that measured Category 3 or stronger was last year's Hurricane Gonzalo, the Washington Post reported.