Two U.S. Marines Stop Gunman Aboard French Train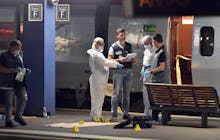 Two unarmed U.S. Marines stopped a Moroccan gunman with multiple weapons aboard a French Thalys train as it passed through Belgium from Amsterdam to Paris on Friday, according to the Telegraph. 
The Marines prevented the gunman from opening fire when they heard him loading Kalashnikov rifle, tackling him to the ground. According to a reporter with local French newspaper La Voix du Nord who was on the train at the time, the Marines confronted the man as he was preparing to open fire and an altercation began. The confrontation left three injured, two with serious wounds, the Daily Beast reports. 
Police arrived to the scene after the Marines, who were off duty at the time of the attack, subdued the gunman. The 26-year-old Moroccan man was heavily armed, carrying a handgun, Kalashnikov rifle and several knives. Belgian Prime Minister Charles Michel says the shooting is being considered a terrorist attack. 
His tweet roughly translates, "I condemn the terrorist attack on the Thalys and express my sympathy for the victims," according to a translation provided by Twitter. The Telegraph also reports France's interior minister Bernard Cazeneuve thanked the American Marines for their involvement in taking down the gunman. "The Americans were particularly courageous and showed extreme bravery in extremely difficult circumstances," he said.
Police tell the Telegraph the gunman hasn't spoken since his arrest. As the Marines fought to take down the gunman, the train halted several times and was rerouted to Arras station, where authorities arrested the suspect. 
The attempted assault on passengers aboard the French train comes several months after two terrorist attacks in France, when gunmen opened fire at the satirical newspaper Charlie Hedbo offices and other gunmn attacked a kosher supermarket in July.