Video Appears to Show Suspect in French Train Shooting Hogtied by American Servicemembers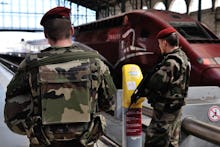 Cellphone video circulating online seems to show the moment American service members vacationing in Europe beat up and hog-tied a suspect in an attempted mass shooting, potentially saving many lives.
Oregon National Guardsman Alek Skarlatos and Air Force airman Spencer Stone were on a train to France when they grabbed the gunman and beat him with his own weapons, subduing him.
The New York Times reports the train was traveling from Amsterdam to Paris on Friday when the suspect entered the car carrying a Luger pistol and a Kalashnikov assault rifle. He was quickly intercepted by a French national, Skarlatos, Stone and another American, according to CNN. Thanks to the efforts of those aboard, what could have been a massacre instead only resulted in three non-life-threatening injuries.
"French passenger tried courageously to overpower him before the suspect fired several shots, then two American passengers intervened and managed to overpower the shooter, immobilized him on the ground and put aside his weaponry," Interior Minister Bernard Cazeneuve told press in Paris.
CNN reports that the identity of the alleged shooter is still unknown, but he may be of "Moroccan origin" and have "ties to radical Islam."