Banksy Just Opened Up a Theme Park — and It's the Stuff of Nightmares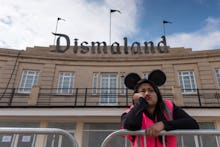 Insanely famous, totally anonymous U.K. street artist Banksy has launched one of his most ambitious projects yet: a satirical theme park called "Dismaland."
Dismaland, which opened Saturday in the U.K. town of Weston-super-Mare, costs just 3 pounds ($4.71) to enter and has quickly proven itself worthy of its gloomy name. The park features bizarre and corrupted versions of classic Disney properties, as well as darkly subverted tropes from all kinds of childrens' art.
According to NPR, Banksy is billing it as a "festival of art, amusements and entry-level anarchism."
The Guardian has a snapshot of the park's layout, which includes three large galleries, a circus tent, puppets, and an "armour plated riot control vehicle built to serve on the streets of Northern Ireland [...] equipped with sniper posts, grenade launchers and now — a children's slide."
The BBC reports of colossal queue lines to enter the park (its website crashed after attracting 6 million visitors) have people wondering if the boredom and frustration are part of the park's intent. Hundreds waited to enter the park, which has a capacity of just 2,000.
While the show may not impress those who have accused the artist of being derivative or juvenile, the project's scale and ambition have already drawn the eyes of the masses. 
"This is an art show for the 99% who would rather not be at an art show. It features a fairytale castle, a boat pond, arcade games and extensive water gardens, all given a distinctly modern twist. But beyond the Mickey-taking is a deadly serious attempt to assemble a show that takes stock of its generation. 'It's scrappy, incoherent and self-obsessed, so maybe we're halfway there ...'" Banksy wrote in an exclusive with Juxtapoz.
Watch a video about the installation below:
h/t NPR