8 Photos of the Adorable Panda Twins Just Born at Smithsonian's National Zoo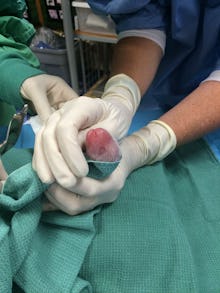 Cute animal lovers, rejoice: Giant panda Mei Xiang has given birth to a set of twins at the Smithsonian's National Zoo.
"The panda team began preparing for a birth when they saw Mei Xiang's water break at 4:32 p.m., and she was already having contractions. The sex of the cub won't be determined until a later date," the zoo said in a statement released to CNN. "The [first] cub is vulnerable at this tiny size but we know Mei is an excellent mother," added the zoo's director, Dennis Kelly.
Zoo personnel artificially inseminated Mei Xiang in April using semen from both another panda at the zoo and one in China, according to CNN. Giant pandas are seriously endangered in the wild, with the World Wildlife Fund reporting just over 1,800 individuals left in the wild. 
The animals are notoriously difficult to breed, with just a three-week window in spring when females are receptive to intercourse. Scientists believe only 24-72 hours of that is considered peak breeding time by female pandas.
In August 2014, a panda at Guangzhou's Chimelong Safari Park gave birth to viable triplets; the Washington Post reported the zoo considered it close to a "miracle." Panda breeding levels are, unfortunately, unsustainably low. Some expect the species to go extinct, thanks to their precarious ecological niche and genetic quirks like inadequately evolved digestive systems.