Wiz Khalifa Just Got Violently Arrested by Police for Riding a "Hoverboard" in LAX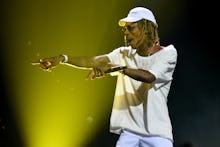 Rap icon Wiz Khalifa was arrested by border patrol agents and police at Los Angeles International Airport on Saturday night for using a HVER Board.
The 27-year-old rapper was returning from an international trip to Finland when he says he was "slammed and cuffed [...] because I didn't want to ditch the [technology] everyone will be using in the next 6 months."
"This? I didn't do nothing, anyway. What you want to do? Put me in jail because I didn't listen to what you say?" Khalifa told the cops as he refused to step off the device. "We can have all the conversations you want to, you can end up on TMZ, destined to become as famous as you wanna be."
Indeed, TMZ obtained footage of Khalifa on the ground, pinned roughly to the ground by officers who repeatedly demand he cease "resisting" despite what appears to be his complete cooperation.
Later, Khalifa took to social media to complain about the incident, telling the police involved to "eat a dick" and informing the public he had "awesome weed and a bad one to roll it for me so it's all good."
Khalifa uses the boards quite often:
It is unclear why officers at the airport felt the need to use so much force while arresting Khalifa, although USA Today reported last year that U.S. law enforcement arrests blacks at a "staggering" rate compared to whites.
Watch the full video of Khalifa's arrest courtesy of TMZ below: