Bernie Sanders Just Took Aim at the GOP's Most Powerful Financial Backers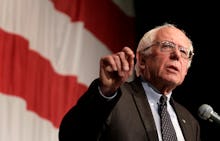 Democratic presidential candidate Sen. Bernie Sanders launched an attack on the Koch brothers on Saturday, calling Koch Industries owners Charles and David Koch "greedy," "corrupted" and saying they are two of a "handful of very, very wealthy people have extraordinary power over our economy and our political life and the media."
"They are very, very powerful and many of them are extremely greedy," the senator from Vermont told a North Charleston, S.C., rally of 3,000 people, according to the Associated Press. "For the life of me, I will never understand how a family like the Koch brothers, worth $85 billion, apparently think that's not enough money."
Sanders also told the crowd that it was a travesty billionaires were continuing to get richer while average South Carolinians were struggling, adding that this was their country too.
Sanders long criticized the Koch brothers as greedy plutocrats seeking to corner the U.S. political system under a deluge of contributions to right-wing politicians. The New York Times reports the billionaire brothers are planning on spending up to $900 million this election season to defeat the eventual Democratic nominee — a total far higher than the combined Republican National Committee and its two congressional committees, which spent just $657 million during the 2012 presidential elections.
The brothers may be collectively valued at over $100 billion.
If the Kochs and their donor network contributed the full amount, they would likely be spending as much money as either eventual presidential candidate. Several GOP candidates have attempted to draw the Kochs' attention, most notably Kentucky Sen. Rand Paul, whom Politico reported bombed a Koch-organized winter gathering to introduce GOP candidates to the donor network in February.
According to the Sky Valley Chronicle, Sanders also drew attention to the fact that he has received funding from more than 400,000 people who have "donated an average of $31.20." He also reiterated his call for publicly-financed elections that would allow non-establishment candidates to be more competitive in an age of unprecedented money in politics.
h/t AP