The 11 States Most Likely to Legalize Weed Next, in One Surprising Map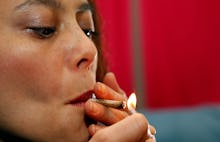 With the legalization of recreational weed sweeping through Colorado, Oregon, Washington, Alaska and the District of Columbia, as well as a massive shift in support for reforming marijuana laws still growing across the country, it may seem like the government's war on weed is nearly over.
But prohibition of recreational marijuana still holds strong across the rest of the country. According to the Marijuana Policy Project (MPP), in 2011 there were more arrests for marijuana-related offenses than all other violent crime put together.
Financial news site 24/7 Wall St. reports activists in 11 states, all of which have already decriminalized marijuana possession to some extent, are fighting for reform. Their efforts are laying the groundwork for the next battles in the war against undoing this prohibition nationally.
The states in question are Massachusetts, Nevada, California, New York, Vermont, Minnesota, Connecticut, Maryland, Rhode Island, Maine and Delaware.
In addition to mostly being broadly liberal, 24/7 Wall St. reports nine of these 11 states all have higher rates of marijuana use than the national norm. Six of them either have bills that would create legal markets for recreational weed either waiting in the legislature or set to be voted on by the general population.
Some of the states on the list seem destined to follow Colorado's example and legalize marijuana relatively soon. The Boston Globe, for example, cites Suffolk University/Boston Herald opinion polls indicating 53% of Massachusetts residents support legalization, with just 37% firmly against (including Republican Gov. Charlie Baker). A group called the Campaign to Regulate Marijuana Like Alcohol recently submitted ballot measures NECN reports would "allow adults 21 years of age and older to possess up to one ounce of marijuana and also grow a 'limited' amount of the plant in their homes." The Marijuana Policy Project has announced it will target the state for a high-profile 2016 effort.
In Nevada, the MPP says the legislature's refusal to consider Initiative Petition 1 means voters will have the chance to vote in favor of the Initiative to Tax and Regulate Marijuana next year. The Brookings Institute's John Hudak wrote in March the state should begin preparing for legal weed, arguing polls showing majority support and presidential election-year voting trends both suggested 2016 will be the year Nevadans will enjoy legal weed.
In other states, unfortunately, legal marijuana is a tougher sell. A Washington Post analysis on July 19 concluded true majority support for reform existed in Arizona, California, Nevada, Massachusetts, Michigan and Ohio. Writing for the paper, Christopher Ingraham also concluded significant public opposition exists in states like Louisiana, Arizona and parts of the mid-Atlantic and Midwest.