12 Photos of Women Celebrating #FreeTheNipple for National Topless Day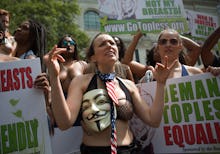 Demonstrators across the country took to the streets without their shirts Sunday to celebrate National Topless Day, a holiday intended to prove there's nothing wrong with women baring their bodies in public.
In New York, activists marched through midtown Manhattan for a Nipple Pride Parade organized by GoTopless, which describes itself on its website as a group dedicated to demonstrating "women have the same constitutional right that men have to go bare-chested in public." 
According to CBS Local, the parade began at Columbus Circle and moved to Bryant Park near Times Square, while another 60 events were planned nationwide.
On its website, GoTopless provided a nationwide map of cities involved in the day, designating cities that currently prohibit a woman from exposing her breasts in public.
Here's how the #FreeTheNipple festivities went:
Gothamist tracked down a few Twitter users enjoying the display:
Activists also turned out in Washington, D.C., to show their pride in front of the White House.
The New York event coincides with a brewing controversy over naked women posing for photos with tourists in Times Square, which city Mayor Bill de Blasio recently committed to outlawing.
Mayor de Blasio told a press conference earlier in August, "Our current laws do make it harder to enforce in the way we might like to [...] There is a First Amendment protection for painting yourself and displaying yourself in a certain fashion. It makes no sense, but I understand that is a First Amendment protection," according to the Observer. He added the city would no longer "tolerate" the women and said he would find "legislative and regulatory solutions" to the problem.