American Servicemen Hailed as Heroes; Receive French Knighthood for Stopping Train Attack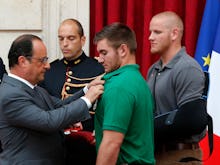 "Since Friday, the entire world admires your courage, your sangfroid, your spirit of solidarity. This is what allowed you to with bare hands — your bare hands — subdue an armed man. This must be an example for all, and a source of inspiration." 
Those were the words of French President Francois Hollande Monday when he awarded the Legion of Honor — France's top award — to three Americans, two of whom were off-duty servicemen, and a Briton for subduing a gunman on a Paris-bound train with 500 passengers on Friday.
United States Airman Spencer Stone and National Guardsman Alek Skarlatos wrestled alleged terrorist Ayoub El-Khazzani to the ground when, according to Stone in a news conference, the gunman was trying to unjam his AK-47 assault rifle. Anthony Sadler, a college student and the servicemen's close friend, and businessman Chris Norman then assisted the men in restraining El-Khazzani. 
"One need only know that Ayoub El-Khazzani was in possession of 300 rounds of ammunition and firearms to understand what we narrowly avoided, a tragedy, a massacre," Hollande said Monday while honoring the men, reports the New York Times. 
Skarlatos, 22, Sadler and Stone, both 23, were in the midst of a trans-European tour, reports Refinery 29. They were actually not originally scheduled to be on the train and only ended up on it after a last minute decision to not spend the night in the train's port of origin, Amsterdam.
Cellphone video footage appears to show El-Khazzani hogtied and on the ground after being confronted by the four men.
According to El-Khazzani's former lawyer, the young man is "dumbfounded" at the accusations and alleges he simply found the gun in a local park, reports the Independent.
However, given the amount of ammunition El-Khazzani was carrying — a handgun, an assault rifle and multiple knives — many find that implausible. 
"Your heroism must be an example for many and a source of inspiration," Hollande told the four men on Monday. "Faced with the evil of terrorism, there is a good, that of humanity. You are the incarnation of that."