Jon Stewart's First Post-'Daily Show' Appearance Was Rocking WWE SummerSlam 2015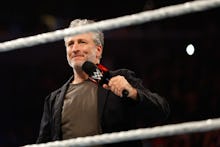 On Sunday night, former Daily Show host Jon Stewart returned to the spotlight in another spectacle of staged comedy, the WWE's SummerSlam in Brooklyn. It was the Peabody award-winning comedian's first post-Daily Show public appearance.
Though the gig was mostly about longtime fan Stewart's praise for the WWE, in his introduction, he didn't pass up on the opportunity to take a quick jab at some politicians in classic Stewart style.
"You know, I've spent the past 16 years talking about politics. It's nice to be back in reality," Stewart told the crowd gathered at the Barclays Center, the Daily Beast reported. "Let me tell you the difference between politics and what you're going to see here tonight: The WWE performers that you will see tonight, they respect their audience. So you're going to see some amazing bouts."
From the start, Stewart wasted no time jumping into controversy. In the pre-show, the comedian sparred with WWE manager Paul Heyman, demanding to see wrestler Brock Lesnar. Heyman blocked the way, 
"Glory, glory, Brock Lesnar," he said gravely before zinging, "I guess we couldn't get David Letterman to host the show tonight."   
The comedian, joined by his son Nate, also took some shade from Stewart favorite, The Undertaker.
The night's title moment came when WWE heavyweights John Cena and Seth Rollins entered the ring. A victory for Cena would make him the first 16-time WWE champion since Ric Flair. As the two fighters had at each other, Stewart took the ring and lunged at Cena with a black folding chair, bashing him in the stomach.
"What the hell did he do that for?" says an announcer as the crowd went wild. Stewart then exited the ring and Rollins pinned Cena shortly thereafter to win the fight.
For Stewart, an avowed fan of WWE, the move was surprising given his history of dust-ups with Rollins in the past. In a March bout, Stewart took the wind out of Rollins with a well-timed kick in the groin. Before that, the pro-wrestler had even trolled the comedian on his own show. WWE announcers, however, were not amused by Stewart's antics.
"Jon Stewart has gone from Daily Show host to SummerSlam criminal here tonight," said announcers, the Daily Beast reported. 
Now, if Stewart goes on to host a U.S. presidential debate, which the U.S. Commission on Presidential Debates is currently being petitioned to allow, he will almost certainly be the only man in history to have achieved both honors, which could be worth a title all its own.