Here's What Fashion Magazines Should Start Learning From Tumblr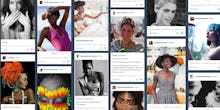 You're a curvy African-American girl attending high school in suburbia. To decide what to wear to a party that night, you look through the pages of your favorite fashion magazine... only to see outfit suggestions for girls who do not look like you, clothes that won't fit your shape, makeup that won't flatter your skin and "celebrity outfits" worn by stars you didn't grow up watching.
It's no secret that magazines are lacking on the diversity front. Vogue tackled the topic in March 2014 with the article, "Is the Fashion World Finally Embracing Diversity?" The article's main photo showed three statuesque models with skin the color of a Starbucks mocha frappuccino and thick-curled tresses towering out of the frame. Wrote Sarah Mower, Vogue.com's chief critic:
"With their multinational, multiethnic backgrounds, not to mention their cheekbones, upswept eyes, and long, beautiful limbs – they're leading the sort of epochal swift that makes editors fight, designers throw money, and agents scramble. At long last, the 'white-out' years that have chilled the heart of the industry appear to be on the way out."
The fashion elite chimed in, with Tom Ford reminding readers, "I've always used black models," and Balmain's Olivier Rousteing stating, "I don't see colors ... I see attitudes."
But seeing different colors is actually pretty important when it comes to diversity — as is seeing different body shapes, hair types, genders and cultural influences. Real diversity should encompass multiple identities. It should, theoretically, mean fashion magazines reflect the people who read them.
To do that, magazines could learn a lesson from Tumblr. 
Tumblr isn't the only place for fashion online, of course. But as a social platform populated by young readers (according to AdWeek, 27% of Tumblr's 19.1 million users are ages 25 to 34, and 23.3% are between the ages of 18 and 24) that's also racially diverse, Tumblr embodies the best of what magazines can be: colorful, diverse, interactive, communal and, ultimately, inspiring. 
Here's are some things fashion magazines could take from Tumblr.
Racial diversity means more than just a few black faces.
It's no secret magazines love white faces, from models to celebrities. Data from the Fashion Spot in 2014 found that out of 44 major magazines, with 611 total covers, white models appeared 567 times, while people of color made only 119 appearances.
But go on Tumblr and you'll find a veritable rainbow of racial diversity. The word "model" turns up some magazine favorites like Cara Delevingne, but also Joan Smalls, Ming Xi, Kiko Mizuhara and countless more Korean faces. There are dark and light faces, and models from all areas, showcasing clothing from the high-end designers you know plus those you probably don't. Diversity isn't just about a few "black models" to offset dozens of white ones; it's about reflecting the countless kinds of beauty out there, in all shades.
Diversity applies to bodies too.
The fashion industry is taking small steps to embrace diversity body types, such as plus-size model Robyn Lawley's inclusion in Sports Illustrated's swimsuit issue this year. But as Amanda Czerniawski, assistant professor of sociology at Temple University, wrote in her book Fashioning Fat: Inside Plus-Size Modeling, that inclusion is still rare, and the body types are still limited. As Czerniawski told the Globe and Mail in February:
"There might be a fashion magazine issue devoted to 'curvy' bodies – and they'll put Scarlett Johansson in it. Or Kate Upton. ... What we have to remember is that even though these models are a little bigger than what we're used to seeing in fashion, they are still atypical bodies. They still are taller than the average woman – and they have proportional body shapes, symmetrical facial features, the intangible X factor."
Tumblr isn't free of those classically slender models, but there's room for all types. One look at the countless photos tagged "curvy" or "plus" turns up more bodies of all shapes and sizes rarely seen on a magazine's glossy pages. That might mean tall, short, big boobs or wide hips, or small ones too. The point is variety — and on Tumblr, it's endless.
"Fashion icons" don't have to be named Audrey, Marilyn or Jackie.
Everyone plays favorites. To this day, the likes of Audrey Hepburn, Marilyn Monroe and Jackie Kennedy Onassis still inspire thousands of magazine readers as fashion icons, their looks embraced by modern corollaries like Olivia Palermo, Gigi Hadid and Kate Middleton. 
But there are other beautiful stars inspiring young women who rarely get cover spots. Look up "fashion icon" on Tumblr, and you'll be met with images of rapper Lil' Kim, singer Sade, androgynous model Erika Linder, more Lil' Kim and Musidora, "a French silent film actress" who "famously played the role of Irma Vep in Les Vampires." (Oh, and some more Lil' Kim.) Search "style star" and you'll see faces from South Korea, England and the Philippines. 
And then there are lesser-known heroes. Barbie Ferreira and Jam Wilson are just two examples of fresh faces using their position to spread messages of body positivity (Wilson, in particular, is involved with the art hoe movement, which aims to reclaim the word "hoe" and uplift participants of color) — and looking absolutely gorgeous while doing it.
Style doesn't exist only in Europe and the U.S.
Karlie Kloss, Cindy Crawford and Erin Heatherton are just the tip of the iceberg for Midwest models: tall, corn-fed white women who traveled from the plains to the pages of Vogue and Elle. Young magazine readers trying to find, say, Iranian or Indian models to idolize, or Nigerian or Japanese fashion that reflects their cultural upbringing will be hard pressed to find inspirations that don't fit the all-American mode.
On the other hand, ethnic and cultural diversity abound on Tumblr. Searching for Middle Eastern women yields pages and pages of not just models, but beautiful women posting pictures of themselves – makeup tutorials, outfit grids, selfies, you name it. You'll find henna photos and piles on piles of Korean "ulzzang" pics, not to mention entire fashion subcultures of their own (just check out the dark style of grunge blogs). Style doesn't have to start on the runways of Milan, Paris and New York. Speaking of which... 
Fashion doesn't have to be a one-way conversation.
Think back to that curvy African-American teen. In using Tumblr to find inspiration, from plus-size bloggers to her own peers, she can also join in. She could post her own picture (with a helpful #ootd tag, perhaps) and talk about her experiences. She could comment on a blogger's picture to thank or compliment her. She could post a picture of a few items she has in her closet and ask, "How do I style these items together?" Then, she would get responses. 
Most importantly, she would have a space to see other people who look like her, outfits tailored toward people similar to her and a community to embrace her.
Magazines could seek to create more community and a sense of camaraderie. They do, after all, talk about who they envision their readers to be. Magazines can morph while maintaining their signature voices and aesthetics. That also means they can include more racial diversity, body diversity and cultural diversity, all while appealing to their readers. 
In fact, they may just gain a few (thousand) more.