'Girl Meets World' Star Rowan Blanchard Takes White Feminism Down a Notch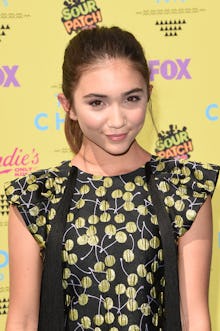 From Zendaya's searing educational tweet about racist beauty standards to Amandla Stenberg's incisive thoughts on cultural appropriation and police brutality, it's clear the era of teen stars being seen and not heard is officially dead. And it appears the movement is growing and inspiring others — most recently, 13-year-old actress Rowan Blanchard. 
A Tumblr user asked the Girl Meets World star about her thoughts on "white feminism" and the notion that the movement may exclude certain marginalized groups, like women of color and non-cis/queer women.
"I have made a very big point at making sure my personal feminism includes everyone — and educating myself and discussing these topics have really helped," Blanchard wrote on Tumblr on Friday, before proceeding to do just that.
While the feminist movement seeks to address barriers women disproportionately face — including reproductive, economic and educational rights — it must also acknowledge racism and its unique effect on the experiences of women of color, Blanchard said. 
"The way a black woman experiences sexism and inequality is different from the way a white woman experiences sexism and inequality," she wrote. 
Blanchard further illustrated the point with concrete examples, like the fact that the wage gap is most intense for women of color, that trans individuals "have been robbed of their souls" and are unprotected against rampant violence, and that women of color also face police brutality, which in the cases of women like Sandra Bland can even be lethal.
Others have also begun to identify "white feminism" as a major problem in the feminist movement and have echoed Blanchard's definition of the concept. 
"White Feminism excludes the experiences of basically anyone who's not white, cis and straight," writer Zeba Blay said in a recent Huffington Post video. In a recent Everyday Feminism article on the topic, writer Maddie McClouskey wrote that this form of feminism assumes all women "face identical struggles, regardless of racial identity."
Blanchard's comments echo other young celebrities who not only champion a complex and inclusive understanding of feminism, but use their significant social media platforms to do so. As Amandla Stenberg recently told Mic, "feminism is having a really powerful moment, and I think for teen girls of color it can been kind of frustrating because sometimes that feminism that exists, you know, on such a visible level in the media, is white feminism."
Blanchard clearly subscribes to this school of thought as well. "We need to be talking about this more," she concluded on Tumblr. "Discussion leads to change."
You can read Blanchard's full Tumblr post below: