Lily-Rose Depp Came Out as Sexually Fluid in a Moving Photo Series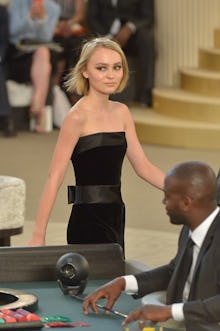 The latest young starlet to join the burgeoning sexual fluidity movement? Johnny Depp's 16-year-old daughter, Lily-Rose Depp, a rising model and actress who recently posed in a photo series called Self Evident Truths. The photo series profiles and celebrates "people who identify as anything other than 100% straight."
Love without labels: In the Instagram caption for Lily-Rose Depp's photo, photographer iO Tillett Wright (pictured with Depp, above) wrote that the 16-year-old Chanel model participated in the project "because she falls somewhere on the vast spectrum" of human sexuality.
 "I couldn't be happier to welcome her to the family. She's a tiny gem of a good human," Wright wrote.
Just a day before her Self Evident Truths pic was uploaded, Depp modeled for the Instagram account for Love magazine, solidifying her non-straight street cred by posing in photos with Miley Cyrus' girlfriend, Stella Maxwell.
Rigid sexual labels seem to be dying a rapid death in 2015. It seems that identifying as exclusively straight just might be going the way of dinosaurs and landline phones. From Miley Cyrus to Cara Delevingne to Kristen Stewart, celebrities are increasingly coming out as sexually fluid. The trend extends beyond celebrities as well: According to a United Kingdom study that came out earlier this month, 49% of 18- to 24-year-olds in the U.K. are self-identifying as something other than exclusively heterosexual.
Wright aims to capture this cultural shift on camera with Self Evident Truths. On the project's website, the series is described as a "photographic document of 10,000 people in the USA that identify as ANYTHING OTHER than 100% straight." Last fall, model, actress and inadvertent sexual fluidity poster girl Delevingne posed with Wright in her own Self Evident Truths shot.
"This project exists to spread awareness and understanding about a broader spectrum of human sexuality," Wright wrote on the website. "We want to bring human stories from within the LGBTQ community to the world, so that we can begin to erase the boundaries between 'Gay,' 'Trans,' 'Straight' and 'Other.'"
Wright has nearly reached her goal, with 9,958 faces photographed as of Monday, according to her website. 
That Depp is so comfortable with her non-straight sexuality at such a young age is an inspiring indicator that the next generation doesn't care nearly as much about sexual labels as the generation that came before them. As Depp, a model, seems to realize: Labels are for designer clothes, not humans.
h/t Dazed