Kayla Kosmalski, Little Girl With Down Syndrome, Just Became Gap's Latest Model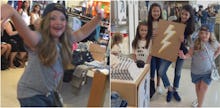 Take note, clothing brands: Ellen DeGeneres and Gap just demonstrated how beautiful and easy it is to have a modeling roster that's inclusive and diverse.
This past weekend, Gap celebrated its new collaboration with DeGeneres, GapKids x ED, by bringing 14 girls, four of whom have a disability, to walk in a "fashion show" in Miami. Among those models was nine-year-old Kayla Kosmalski, who has Down Syndrome.
The event was organized by the nonprofit Changing the Face of Beauty, which works for more adequate representation of people with disabilities in media, including fashion ads. "There are brands in our country that use their images to send messages loud and clear to the youth they dress," the organization writes on its website.
GapKids x ED is trying to do just that, "encourag[ing] girls everywhere to be themselves, do what makes them happy and take pride in who they are," according to Gap. 
That's where girls like Kayla Kosmalski come in.
"The [Gap] campaign is just incredible. It's showing the world that our kids are more alike than different and they deserve the same opportunities as the other kids do. Yes, Kayla has Down syndrome, but she's smart and funny and sassy like all other kids," Amy Kosmalski, Kayla's mother, told the Mighty. 
Amy and Rick Kosmalski have been advocating for those with disabilities on several fronts, including pushing for the passing of the Delaware ABLE Act, which enables people with disabilities to create tax-free savings accounts to save for disability and education-related expenses.
They've also pushed for positive visibility, inspired by their daughter's enthusiasm for modeling, pageants and performance. 
Child models breaking the mold: Kosmalski isn't the only model to be making headlines for helping make fashion brands and runways a little more diverse. In September, 18-year-old Madeline Stuart, who has Down Syndrome, will participate in New York Fashion Week for the first time. Stuart has been gaining fans throughout the year, serving as an inspiration and reminder of what the runway can look like. 
"I hope through modeling I can change [society's] view of people with Disabilities, exposure is creating awareness, acceptance and inclusion," Stuart writes on her Facebook page.
After Saturday's event, Changing the Face of Beauty celebrated on its own Facebook page, saying Gap's campaign makes for a powerful and influential statement:
"We believe we presented an perfect example of what diversity looks like when children of all abilities are given the opportunity to represent a brand together. They truly changed the face of beauty."
More brands, for kids and grown-ups, should follow suit.
Watch Kayla's walk down the runway below:
h/t People.com