This Couple Had the Best Response to People Who Keep Asking When They're Having Kids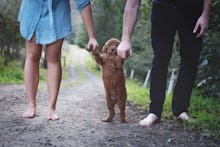 We've said it before and we'll say it again: It's really not OK to ask people when they're having kids.
Unfortunately, there seems to be no perfect way to respond to the all-too-common question — except, maybe, parodying those omnipresent newborn photo shoots by taking a bunch of photos with your puppy in a baby carriage.
Australian couple Matt Kay and Abby Lee teamed up with their friend, professional photographer Elisha Minnette, to create a quick, easy and really freakin' cute response to friends and family who keep asking them when they're having kids. Minnette had Kay and Lee pose with their weeks-old Goldendoodle puppy, Humphrey, as a way of skewering the obligatory "brand-new baby cradled in adoring parents' arms" photo series. 
"We did this shoot just for a little bit of humor between ourselves and our closest family and friends that has the same sense of humor as us," Minnette told Cosmopolitan. "We did not expect this to get as big as it has." 
But the shoot isn't just a way for the couple to show off their new puppy. It's also an incisive critique of a very real issue. 
A fun answer to a question no one should be asking: While Minnette has been quick to point out that the shoot "wasn't done to make fun of new parents" who clog their friends' Facebook feeds with photos of babies, the images of Kay and Lee with Humphrey make an important point about the futility of asking couples about their reproductive statuses over and over again.  
Ultimately, the photos of Humphrey swaddled in baby blankets send the message that it's possible for couples to lead a full, joyful life without having kids. "We have goals we would like to achieve before having children, and we couldn't be more happy with Humphrey," Abby told Refinery 29. 
By giving the middle finger to busybodies who incessantly ask them when they're going to settle down and start popping out babies, this couple is sending the message that they want to make a family on their own terms.