Jared Fogle's Childhood Obesity Foundation Never Issued a Single Grant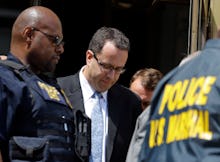 The Jared Foundation, the charity former Subway spokesman Jared Fogle founded more than a decade before pleading guilty for possession of child pornography and crossing state lines to have sex with a minor, appears to have been a sham.
A USA Today investigation found Fogle, who was supposed to distribute $2 million to fight childhood obesity in schools, instead spent an average of just $73,000 annually over a four-year period beginning in 2009. Of that money, around $44,000 per year went to the group's executive director, and the rest is currently unaccounted for. 
In its entire lifetime, the charity failed to pay out a single grant and skimped on small required registration fees, leading the state of Indiana to mail it delinquency notices.
A website for the foundation, http://www.jaredfoundation.org, is now inaccessible.
The Jared Foundation's executive director, Russ Taylor, is already facing seven related charges of child pornography production and an additional count of child pornography possession. Investigators say they found more than 400 such videos in Taylor's home and that Taylor shared the images he was producing with Fogle, who endorsed Taylor's activities. At the time, Fogle insisted he was "shocked" upon learning of Taylor's alleged crimes.
For years, Fogle was seen as a corporate success story. In 2013, USA Today interviewed the spokesman about his visits to the White House and spoke to Subway marketing chief Tony Pace, who told the magazine, "I'd say one-third to one-half of Subway's growth (over the past 15 years) is because of Jared."
But Fogle was simultaneously the target of a yearslong investigation by the FBI. Several women, including journalist Rochelle Herman, became FBI informants after Fogle told them about his attraction to minors.
Subway has fired Fogle and refused further comment via Twitter.
While the Jared Foundation apparently didn't help any kids, it may have acted as a vehicle for Taylor and/or Fogle to interact with minors.
h/t USA Today