Police Foil Mass Shooting Plan at Pokémon World Championships After Social Media Boasting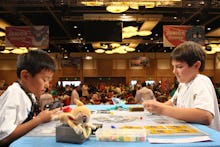 Boston police thwarted two gamers who attempted to bring a number of high-powered weapons and knives to the World Pokémon Championships video game and playing card event Thursday.
Before the event, fellow gamers at Boston's Hynes Convention Center received threats of violence over social media linked to 18-year-old Kevin Norton and 27-year-old James Stumbo, a representative from the Boston Police Department said during a press conference Monday. Several hours later, convention security barred the two from entering the center. The pair had driven to the event from Davenport, Iowa, and reportedly planned some kind of attack on their competitors. 
A search warrant issued by the Boston police Friday helped uncover a cache of weapons in the men's car, including a 12-gauge Remington shotgun, an AR-15 rifle, hundreds of rounds of ammunition and a hunting knife, the BPD reports. The men could not produce a license to carry the weapons and were subsequently arrested and charged with unlawful possession of a weapon. 
In Facebook posts that appeared to have been deleted, the two suspects announced they planned to attend the event, with Norton joking about "killing the competition." 
"We found out about chatter online through Pokémon," Rachel Weiss, communications manager at the Massachusetts Convention Center Authority, told Mic. "They were the ones who brought it to our attention." 
In a statement released to Mic, the convention center confirmed the matter had been swiftly handed over to local authorities: "As soon as we were made aware of a potential security issue at an event taking place at the Hynes this weekend, we worked closely with the Boston Police Department and the event to take immediate steps to resolve the issue." 
At a press conference on Monday led by Commissioner William B. Evans, authorities detailed how they had foiled the plot and how they had made sure to follow strict police protocols in the run up to the arrest to avoid losing any potential case on a technicality. The commissioner refused to speculate about what may have been prevented.
"I'm just thankful we cut this off before anyone was hurt," Evans said. 
The near-miss in Boston is only the latest controversy for a brand that has seen its share over the years. In 2012, NintendoLife published a comprehensive list documenting how Pokémon has been accused of Satanism, a Zionist conspiracy, human trafficking and Nazism.