Why Scott Walker Is Paying the Highest Price for Donald Trump's Rise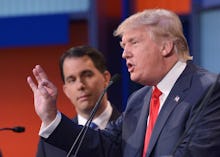 Entering his 11th week on the presidential primary trail, Donald Trump has never been more popular with Republican voters. He is leading every major national poll and, according to the most recent CNN/ORC survey of likely caucusgoers in Iowa, tops the GOP field there by eight points. 
"I would like to have the election tomorrow," Trump said during a rally in Mobile, Alabama, on Friday night. "I don't want to wait."
Wisconsin Gov. Scott Walker, on the other hand, should be grateful the voting doesn't begin for another five months. The early leader in Iowa, home to the first nominating contest and a must-win for any candidate hoping to stake a claim with the GOP's conservative base, Walker has been eclipsed by Trump in the polls and on the stump. His promise to take on entrenched interests in Washington, a familiar political pitch to begin with, looks downright meek when cast against Trump's wildcat rhetoric.
Someone say "immigration"? Walker formally entered the race on July 13, nearly a month after the blustery billionaire. His 34-minute announcement speech included mentions of voter ID laws, lawsuit reform, defunding Planned Parenthood, a 20-week abortion ban and concealed carry legislation. At no point did he say the word "immigration."
The issue has never been a comfortable one for Walker, who initially supported comprehensive federal reform that included a pathway to citizenship. He has since reversed course, a decision one former aide described to Politico in April as an "Olympics-quality flip-flop."
Four months later, with Trump stoking and exploiting populist anger against immigrants, Walker has been caught twisting himself in knots trying to keep conservatives on his side. It's not going well. In the space of the week, he registered three positions on Trump's proposal to end birthright citizenship. Last Monday in Iowa, Walker told MSNBC he "absolutely" supported it. By Friday, though, Walker seemed less excited, explaining to CNBC he was "not taking a position on it one way or another." 
Two days later, when asked on ABC's This Week if he would seek to "repeal or alter the 14th Amendment," which guarantees citizenship to children born in the United States, Walker arrived at "no."
Brand damage: Minutes earlier, during a phone interview on the same program on Sunday, Trump had laughed at Walker's reversals. The jab in itself was nothing special — most politicians are accustomed to being poked at by opponents for acting like politicians. But Walker's appeal is uniquely at risk if Trump's punches land. So when the man backed by the "Unintimidated PAC" gets called out for appearing, well, intimidated and reactive, that's a serious concern.
"He keeps going back to his pollster," Trump said on Sunday, "and his pollster says, 'Oh, Trump has a good idea,' 'Oh, Trump has a bad idea,' 'Oh no, wait a minute, Trump has a good idea.'"
If that wasn't enough, Trump also became the first major figure in the Republican Party (and yes, win or lose this primary, he has graduated to "major figure" status) to call out Walker's record in Wisconsin. 
"His state is really in trouble," Trump told host This Week George Stephanopoulos on Sunday. "I mean, it's a fantastic place. I love the people of Wisconsin, but if you look at what's going on, they have a $2.2 billion deficit. They were supposed to have a surplus of $1 billion and they have $2.2 billion ... He stopped a lot of work because he doesn't want to raise taxes. So instead of raising taxes, he's borrowing to the hilt and the state is very over-leveraged. And it's No. 38 out of the states. It's number — it's ranked No. 38. That's no good."
Bad timing: What's worse, though, are those poll numbers. In a May survey by Quinnipiac, Walker beat his nearest rivals in Iowa, Florida Sen. Marco Rubio and Kentucky Sen. Rand Paul, by eight points, with 21% of respondents backing his bid. 
By August, Walker had fallen out of the lead and into single digits. In a CNN/ORC poll from Aug. 11, Trump led with 22% to Walker's 9%. Dr. Ben Carson scored 14%. 
But Walker is losing more than a summer exhibition. More than anyone else in the field, Trump is eating up Walker's political oxygen. Here's a CNN rundown of how much time the major networks have spent discussing the Republican candidates during their nightly newscasts since Aug. 6:
Note whose name does not appear on the list.
What a difference a month makes: In a Washington Post story published the week before Walker entered the contest in July, his team was blunt and confident. "Iowa is the key," wrote columnist Dan Balz. Advisers told Balz they expected Walker to win the Hawkeye State and to follow it up with another caucus victory in Nevada. It was an optimistic assessment, but an entirely plausible one. 
More than two months later, the dynamics have changed. Trump has pulled the curtain back on the Republican Party apparatus and forced nearly every one of the GOP candidates to answer uncomfortable questions about themselves and their positions. Walker, an expert at coding his conservatism in a way that enlivens the right wing without completely turning off centrist Democrats, has responded by mostly clamming up. 
Now he's facing something much worse than opposition: apathy.