Stock Market Crash: What Happened to the Dow Jones Monday and How It Affects You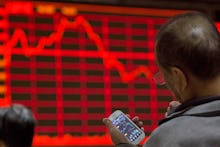 Within minutes of Wall Street opening on Monday, the Dow Jones Industrial Average made its biggest intraday point swing in its nearly 120-year history, plummeting a record 1,089 points, or 6.6%. The last time such a major upset occurred was in October 2008, with a point swing of 1,018.77. 
The United States market had mostly snapped back into place by early afternoon, but not without sparking some panic of an impending financial crisis. 
Such sudden declines were happening in markets around the world. In Europe, markets were down about 5% by Monday afternoon, while China's Shanghai Composite index dipped 8.5%, bringing the market down by 38% since its June high. 
Here's what to know about Monday's stock market crash: 
What happened: A lot of factors are at play, but the sharp drop could be attributed to the market correcting itself. Corrections occur when the market has been performing well for a long period of time. In this case, the U.S. stock market was on a six-year bull run. 
"A correction is a decline or downward movement of a stock, or a bond, or a commodity or market index," CNBC's Mark Koba reports. "The amount of the decline is at least 10%, and a true correction exceeds that amount."
Koba writes that corrections happen when price declines halt upward trends: "Stocks, bonds, commodities and everything else traded on the markets never move in a straight line, either up or down. At some point, their value will change — for better or worse."
The last time such a correction occurred was in 2011. 
Why it happened: When it comes to tracing the origins of Monday's stock market crash, all signs point to China.
It started when China's Shanghai Composite began to struggle this summer. The slump sparked concerns worldwide that the country's economy, the second-biggest economy in the world and the driver of decades of global economic growth, could be slowing much faster than was previously thought. 
That prompted investors around the world to start selling off their Chinese shares. Australia, Hong Kong, Japan, South Korea, Taiwan and several major European markets posted big losses.
Another major factor in the stock market fall was China's devaluing its currency earlier this month. The move instantly saw the yuan fall 1.8% versus the dollar and 2.2% versus the euro. 
"China's shock move to devalue the yuan this month [fueled] fears of competitive devaluations in rival export-led economies and a slump in Chinese demand that could have ripple effects in other parts of the world," Citywire Money reports.
Which U.S. stocks were hit the hardest? In the U.S., Apple, Facebook and Netflix were poised to take big hits.  
Both Apple and Facebook were down more than 4% each in premarket trading on Monday, CNN Money reported. Netflix was down more than 7%. 
Oil dipped more than 4%, some of it trading as low as $38.65 per barrel, a new six-year low. 
What does this mean for your stock prices: There's no doubt that what happens in China affects U.S. investors.  
"Pockets of the U.S. stock market are exposed to China's troubles," Matt Egan of CNN Money writes. "That's because 40% of the revenue generated by S&P 500 companies comes from overseas."
However, most market experts weren't ready to hit the panic button over Monday's upset. "This is hardly the worst day ever for stocks," according to a wire report from CNN. "This pullback also comes after six years of stellar stock market gains."