One Direction's Break Up Rumors Are Producing the Internet's Greatest Memes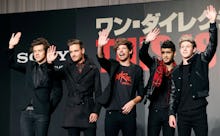 Fans of English-Irish pop band One Direction aren't taking the news that the group may be on the verge of a split lying down. Social media users took to Twitter on Monday to post One Direction memes that best summed up the pop world's collective funk over the group possibly going on a hiatus beginning in March. 
Band members Niall Horan, Liam Payne, Harry Styles and Louis Tomlinson have reportedly agreed to take at least a year break following the release of their fifth album, which will likely drop in March 2016, according to Reuters. The album would be the band's first without its one-time member Zayn Malik, who parted ways with the boy band in March. 
"I know they're taking a much-deserved break," One Direction producer and songwriter Julian Bunetta confirmed to Entertainment Weekly. "They've been doing something that no band has ever done — five albums, five tours, and a movie in five years. It's pretty prolific and incredible. ... They might take a year off and miss it. They might take a year off and say you know what, I need another year off."
Internet users' reactions to the news were swift and hilarious. 
Some of the memes suggested that Styles would go on to solo stardom and leave the other band members in his wake. 
Other memes mocked One Direction fans for their supposed meltdowns over the news. 
Addressing rumors that the group was splitting up because its members were on bad terms, a source told the Sun, "There is absolutely no bad blood between them and they are all 100% behind the decision. It is definitely not a split and they fully intend to get back together at some time in the future."