The Weeknd's New Album 'Beauty Behind the Madness' Proves He Is the Next Michael Jackson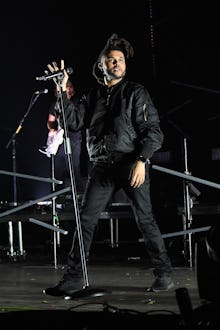 In the past few months, The Weeknd has transformed. 
Abel Tesfaye, stage name The Weekend, has gone from an obscene, drug-fueled recluse whose music was most aptly described as horror R&B to a fixture on pop radio. He still hardly gives interviews and barely posts anything to social media — save links to his music and information about his tour. There's only one thing molding The Weeknd's celebrity: his music.
His upcoming record, Beauty Behind the Madness, has had the Internet in an absolute frenzy for the past few months. All four of the album's advance singles have gone platinum, with "Can't Feel My Face" reaching the No. 1 spot on Billboard's Hot 100. This album has gotten more attention than any other he's released, and most critics are puzzling over his choice to pursue more mainstream pop. However, his music is not all that different from what he's done before. It's slightly streamlined and more reliably danceable, but it's still just as nasty and debauched as it ever was.
Celeb status: The Weeknd's distinctive, mournful vocals and fascination with dissonance make his new album's dance beats and pop choruses sound fresh and experimental. Beauty Behind the Madness may just be the opus that turns The Weeknd into the most important pop artist of our generation — the Millennial Michael Jackson.
The Weeknd was aiming for nothing lower. "These kids, you know, they don't have a Michael Jackson," Tesfaye told the New York Times in a recent and rare profile. "They don't have a Prince. They don't have a Whitney. Who else is there? Who else can really do it at this point?" The Weeknd's answer is Beauty.
One of the most distinct elements of Michael Jackson's artistry was his ability to sing about anything, no matter how unsettling and disturbing. His catalogue confronts racial prejudice, paternity issues and murder; his candidness gives the music depth and urgency that makes it eternally relevant. With Beauty, The Weeknd has taken up the mantle Jackson left behind and, in doing so, has built something incredible.
The album's 14 tracks provide the perfect introduction to the artist's brand of illicit R&B. The Weeknd makes the discussions of the darker sides of life — drugs, homelessness, loss of innocence — go down impeccably smooth. "Mama called me destructive, oh yeah/ Said it'd ruin me one day," he sings on the opening track, "Real Life." "'Cause every woman that loved me/ I seemed to push them away/ That's real life." Dressed up in slicker, radio-friendly beats, it's easy for the complexity and weight of the lines to slip past unrecognized. But that's an essential part of the album's genius. 
This tension between opposites has always been part of The Weeknd's mission. He borrowed it from some of the greatest: Prince and R. Kelly. "Some of the lines he says, if you say them in a normal voice, it's the most disgusting thing you could say to somebody," The Weeknd told Complex about R. Kelly's lyrics back in 2013, in his very first interview. "But I can say 'Pussy-ass nigga' in the most elegant and sexiest way ever, and it's accepted. If I can get away with singing that, I'm doing something right."
This sly artistry works better than ever on Beauty. Listeners can play "Can't Feel My Face" several times before realizing the song is an extended metaphor for the pains and joys of drug addiction. "In The Night" is a direct homage to Jackson, telling the story of a survivor of childhood sexual abuse over some electric '80s-inspired pop. The tension between dark content and bright, uptempo hooks gives the songs an intriguing internal tension and depth that's rarely found on today's big pop albums. It's challenging in a way that only the most memorable pop classics tend to be.
Beauty Behind the Madness is the best possible way The Weeknd could have announced his attentions to superstardom — and the only way he could have continued to be taken seriously. He went for the big radio win, but didn't compromise any of the artful, seedy storytelling his fans have come to crave.
"All of my music is honest," he told GQ last week. "When I write, I write about my surroundings. Sometimes it's light and sometimes it gets very dark. With this album I've learned to balance them out and evolve my sound."
That honesty is going to pay off in a big way for The Weeknd. He's going to bring some danger back to pop, which is something the genre has needed for a long time.