5 States Have Completed Investigations Into Planned Parenthood — and Found Nothing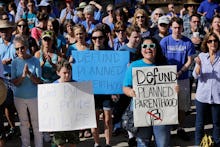 Planned Parenthood, the perennially besieged women's health care and family planning provider, has been facing an existential crisis this summer. Congressional Republicans, with the backing of all but one of the party's presidential candidates, are angling to cut off the organization's access to federal funds, the lifeblood of its nonprofit operation.
The latest standoff began when the anti-abortion group Center for Medical Progress began releasing a series of secretly recorded and selectively edited videos alleging to show a Planned Parenthood doctor discussing the illegal sale of fetal tissue to activists posing as biomedical researchers. 
Planned Parenthood denied any wrongdoing, but the visceral nature of the videos created an opening for political opponents. Governors and legislators in more than a dozen states either launched or agitated for official inquiries into the activities of regional affiliates. Former Florida Gov. Jeb Bush, now a Republican presidential contender, urged Congress to spring for its own investigation.
But a little more than a month later, the five states that have completed their investigations have come to the same conclusion: Planned Parenthood acted strictly within the boundaries of the law. The initial hysteria has receded.
"Planned Parenthood follows all laws and has very high medical standards, and that's what all of these investigations are finding," the group's executive vice president, Dawn Laguens, said in a statement released Friday. "All of this stems from totally false claims made by anti-abortion extremists who are pursuing a political agenda that is far outside the mainstream."
Fighting words: While support for women's health providers is mostly uncontroversial, Planned Parenthood's abortion services remain extremely divisive. A recent Gallup poll found that exactly 50% of Americans identify as being "pro-choice," while 44% say they are "pro-life." Those numbers are mostly unchanged over almost two decades. 
In more conservative states, abortion is a potent wedge issue for Republican leaders, who argue that federal funds are subsidizing abortions, although such use of funds is banned by law. The organization receives more than $500 million in taxpayer money each year.
"Today's video of a Planned Parenthood official discussing the systematic harvesting and trafficking of human body parts is shocking and gruesome," Louisiana Gov. Bobby Jindal said on July 14, before opening "an immediate investigation into this alleged evil and illegal activity." In Massachusetts, state Rep. James J. Lyons Jr., also a Republican, wrote a letter asking the attorney general to determine if the law had been broken, while South Dakota state Rep. Isaac Latterell, who called one of the videos "appalling and inhuman," demanded the governor probe the state's single Planned Parenthood affiliate. 
"I think every Hoosier should be appalled at what has come forward as allegations in this video," Indiana Gov. Mike Pence said during an interview with WIBC-FM on July 16. The same day, Georgia Gov. Nathan Deal announced he would order the state Department of Public Health to "ensure this horrific practice is not occurring here."
Louisiana's complaint remains open, delaying the opening of a Planned Parenthood affiliate in New Orleans. But inquiries in Pennsylvania, Massachusetts, South Dakota, Georgia and Indiana have all been closed. Those results, however, tend to arrive with considerably less fanfare.
On July 30, two weeks after Pence denounced the "morally reprehensible" video, the Associated Press received a statement from the Indiana Department of Health, saying investigators had been "unable to find any non-compliance with state regulations ... therefore, no deficiencies were cited." 
Pennsylvania's secretary of health Karen Murphy announced her findings in a letter to concerned legislators. 
"Since 2011 when the Department instituted annual and random unannounced surveys of Planned Parenthood facilities in Pennsylvania, the Department has never found a violation of the Abortion Control Act provisions regarding the procurement or use of fetal tissue," Murphy wrote. "Although donation of fetal tissue is lawful under the [state] Abortion Control Act and federal law, our review has found that Planned Parenthood facilities in Pennsylvania do not participate in the practice." 
Now what? Even as the state-level attempts to defund or discredit Planned Parenthood fall flat, the issue is still simmering on Capitol Hill. 
On Aug. 3, Senate Democrats blocked their colleagues' attempt to cut off federal aid, but the question is expected to come up again when Congress returns from vacation in September. Hardliners have floated the idea of holding up funding for the entire federal government if their measure to gut Planned Parenthood doesn't pass. 
For more moderate Republicans, like Senate Majority Leader Mitch McConnell, the prospect of a second government shutdown in three years is not a viable political option. But that is unlikely to persuade right wingers like former Pennsylvania Sen. Rick Santorum, who has a presidential campaign to run. 
"Planned Parenthood is committing heinous crimes," Santorum said in a statement last week. "They must not just be defunded, they must also be prosecuted."
On Tuesday, Bush went even further. "I don't think Planned Parenthood ought to get a penny," he said at a town hall event in Colorado, "because they're not actually doing women's health issues."