The Weeknd New Album 2015: Lyrics and Streaming Options for 'Beauty Behind the Madness'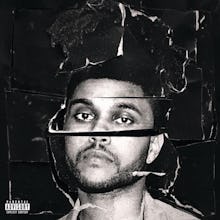 In case you haven't heard, The Weeknd is back, and Beauty Behind the Madness, the hip-hop artist's sophomore studio album, is set for a Friday release.
Fans itching to hear the highly anticipated new tracks can stream a full 18 minutes from the new album beforehand via SoundCloud.
Source: SoundCloud
The album is essentially exactly what The Weeknd fans are craving: a reckless anthem, far from politically correct, with a focus on sex, drugs and an endless ambition for success. 
While some songs, like "Can't Feel My Face" and "Often," feel like clear departures from the "King of the Fall" singer's less mainstream works, others show off his roots in R&B. Eclectic collaborations with Ed Sheeran and Sia prove this is just the beginning of a diverse career for the 25-year-old artist.
The Weeknd released a new music video Monday for "Tell Your Friends," a track from Beauty Behind the Madness. The video starts off with a NSFW storyline similar to that employed in both preceding singles, but arguably more disturbing than "Often" and only slightly more violent than "Can't Feel My Face." Directed by Grant Singer, "Tell Your Friends" depicts The Weeknd as a cold-blooded killer who winds up burying a version of himself (whether this is metaphorical remains up to interpretation) and speeding off in his car while listening to Beauty Behind the Madness' first track, "Real Life."
The lyrics focus on The Weeknd's rise to success in recent years, as well as his status as a sex symbol and icon among his peers, in a sex-driven narrative. 
My cousin said I made it big and it's unusual, she tried to take a selfie at my grandma's funeral/ Used to roam on Queen, now I sing Queen street anthems/ Used to hate attention, now I pull up in that wagon/ I was broken, I was broken, I was so broke/ I used to roam around the town when I was homeless, me and Lamar would rob a nigga for his Jordans/ And flip it just to get these hoes another nose fix/ Now we get faded, when we want girl, we got choices/ Lay them on the fucking table, we got choices/ And if they wanna fuck my niggas, they got choices/ They told me not to fall in love, that shit is pointless.
The Weeknd teamed up with Sheeran for a song titled "Dark Times," which may sound like an entirely different genre than the rest of Beauty Behind the Madness, but its lyrics hold true to the usual themes.
"I wrote a song with with Ed Sheeran that was kind of spontaneous," The Weeknd told GQ. "He was hosting the Much Music Awards in Toronto and I invited him, and pretty much the entire awards show, to my condo to party. It went on until about 5 in the morning but we didn't write the song until that next day, so you can imagine how that night went. Ed also did a freestyle battle with Waka Flocka [Flame] in my kitchen. That was pretty dope."
The song starts with Sheeran seemingly waking up from a wild night and trying to put the pieces of his life together while admitting to a woman the chances of him doing so successfully are slim:
Waking up, half past five, blood on pillow and one bruised eye/ Drunk too much, you know what I'm like, but you should've seen the other guy/ This ain't the right time for you to fall in love with me, baby I'm just being honest/ And I know my lies could not make you believe, we're running in circles that's why/ In my dark times I'll be going back to the street, promising everything I do not mean/ In my dark time, baby this is all I could be, and only my mother can love me for me.
The Weeknd then adds in his similar version of waking up after a night of drugs and violence, bringing to light the dark times the two singers both face thanks to their over-indulgent lifestyles:
Light one up, let me bum a smoke, still coming down, dripping throat/ I got another man's blood on my clothes, but an endless fog's the life I chose.
The Weeknd told GQ he pushed the boundaries with his new album, yet stayed true to himself in many ways: "All of my music is honest. When I write, I write about my surroundings. Sometimes it's light and sometimes it gets very dark. With this album I've learned to balance them out and evolve my sound."