Ashley Madison Leak: Possible Suicides, Hate Crimes Linked to Data Hack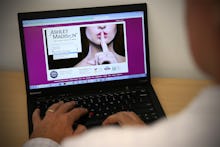 Investigators have "unconfirmed reports" that at least two people linked to the Ashley Madison hack may have killed themselves, though it was unclear whether their deaths were a direct result of having their information leaked, Toronto Police Superintendent Bryce Evans said during a televised news conference on Monday. 
Police also confirmed a rise in hate crimes as a result of the hack. However, authorities did not elaborate. 
Hackers also allegedly tried to extort Ashley Madison clients by threatening to share their account information directly with friends and family, according to Reuters. 
"The social impact behind this leak, we're talking about families, we're talking about children, we're talking about wives, their male partners," Evans said during the conference. "We now have hate crimes as a result of this. ... This isn't fun and games anymore. This is reality."
When asked about the suicides possibly related to Ashley Madison, Evans said, "We received that call [about the suicides] this morning. So as a result of that we are going to actively look into it." However, he said specific information about the cases were sparse. 
Last week, hackers posted nearly 10 gigabytes of account data onto the so-called Dark Web. It wasn't long before Internet users could easily search the data themselves. The information dump included the email addresses, credit card info and personal profiles of millions of account holders on Ashley Madison, a dating website for people looking to cheat on their spouses or partners. 
Several high-profile names surfaced in the leak, including embattled reality TV star Josh Duggar and the executive director of the Louisiana GOP, Fortune reports. 
At the press conference, Evans said the dating website's Canada-based parent company, Avid Life Media, was offering a $500,000 reward for anyone with information leading to the hackers, who go by the name Impact Team. "I want to make it very clear to you your actions are illegal and we will not be tolerating them," he said. "This is your wake-up call."