Here Are the 9 Top Colleges Whose Graduates Make the Most Money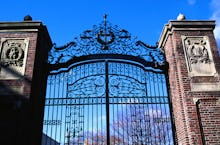 Where to go to college? It's a perennial question. Today, however, with jobs becoming more and more demanding of academic qualifications and college costs rising exponentially, students feel under more pressure to make the right decision ... and sometimes that means making the most economically responsible decision.
Every year, the data company PayScale releases its review of salary data from college graduates around the country. The company's 2015 report, released Wednesday, analyzed over 1,000 degree-granting institutions and reviewed hundreds of different majors. Unlike other studies that rank the "best" places to go to school, PayScale evaluated which universities could offer their graduates the best median mid-career salary upon graduation. 
The data speaks for itself. Most are familiar names, some are hidden gems, all hold the promise of big bucks for alumni. Below are the top nine schools among bachelor's-only graduates.
1. SUNY - Maritime College —  Mid-Career Median Pay: $134,000
It wasn't Harvard; It wasn't Yale. Its yearly tuition is just $5,870 for in-state students and $15,320 for out-of-state. It blew away schools that charge more than triple to attend, like Oberlin (ranked 64th) and New York University (ranked 71st). The State University of New York - Maritime occupies a humble campus at Six Pennyfield Ave. in the Bronx, but with median mid-career salaries at $134,000, students have a lot to strut about. The school is one of America's six state "Maritime academies." Notable alumni have included the Twitter-savvy astronaut Scott Kelly and the somewhat more infamous Exxon Valdez shipmaster Joseph Hazelwood. According to the school's website, about 40% of students head off for a life at sea after graduation. 
2. Harvey Mudd College — Mid-Career Median Pay: $133,000
The previous title-holder during PayScale's last two surveys, Harvey Mudd was dethroned by its comparatively obscure rival SUNY - Maritime College by $1,000. While Mudd may not be widely known among the general public, it has long been a highly respected California-based liberal arts institution with a particular focus in engineering and mathematics. U.S. News and World Report called it "one of the country's top math, science and engineering undergraduate colleges." With average student debt at $21,920 — well below the nation's average —  the school is a bargain from start to finish.
3 (tie). Harvard — Mid-Career Median Pay: $126,000
In any list ranking the country's most financially successful alumni, Harvard is bound to make an appearance. Students who attend the oldest university in the United States can look to pocket a median mid-career salary of $126,000. While the costs of attendance may make the initial investment prohibitive, the storied institution does offer generous financial aid to those accepted. According to its website, 100% of students "can graduate debt-free," with 20% paying no tuition at all. While Harvard's more than $60,659 per year in tuition/room and board is still prohibitive to some prospective students, the overall package remains — as it has for centuries — hard to resist.   
3 (tie). United States Naval Academy (USNA) — Mid-Career Median Pay: $126,000
SUNY - Maritime wasn't the only good news for sailors on this list. Coming in also at number three is the United States Naval Academy. Far from merely the subject of one of James Franco's most noteworthy flops, the school is one of the top academic institutions in the country, ranking 13th among national liberal arts colleges, according to U.S. News and World Report. Thanks to the U.S. Navy, in-state tuition for those lucky enough to get in is $0.00, while out-of-state tuition is also $0.00. Like Harvard, median mid-year salaries for graduates is a cool $126,000.
5. California Institute of Technology (Caltech) — Mid-Career Median Pay: $125,000
The motto of the vaunted California Institute of Technology is, "The truth shall make you free." For students looking to cash in on their degrees, the truth has never sounded so good. Caltech ranked number five on PayScale's list, with median mid-career graduates making $125,000 a year. Aside from producing some of the best engineers in the world and being the setting for The Big Bang Theory, the school is a certified olive-oil producer and distributor, and also allows students to take classes in Ultimate Frisbee.   
6. Massachusetts Institute of Technology (MIT) — Mid-Career Median Pay: $124,000
Harvard's almost-as-prestigious Boston neighbor packs an almost-as-prestigious punch when it comes to salaries for their graduates, with median mid-career take-home at $124,000 per year. On the academic front, the school boasts 80 Nobel Laureates, 56 National Medal of Science winners and 43 MacArthur Fellows among the current and former community. Despite a historically hostile environment for women in STEM, 46% of the school's students are female, while more than half the overall population are minorities.   
7. Stanford University — Mid-Career Median Pay: $123,000
With his original railroad companies long defunct, the greatest legacy of California industrialist Leland Stanford is likely the university that bears his name. While the school may be best known for Philip Zimbardo's infamous Stanford Prison Experiment, it has also produced a string of some of the most successful tech entrepreneurs in the United States, including Instagram founder Kevin Systrom as well as the founders or co-founders of Google, Cisco, Sun Microsystems, Intel, Yahoo!, Netflix, Paypal and TechCrunch, the Independent reported. Taken in that light, a median mid-career salary for grads at $123,000 doesn't seem like that much. Despite the big shoes to fill, it's still nothing to scoff at. 
8. Princeton University — Mid-Career Median Pay: $122,000
There are few accolades you can offer Princeton that haven't already been said. One of the United States' storied Ivy League schools, the university regularly trades off with Harvard and Yale for the title of best in the nation. The most recent U.S. News and World Report rankings placed it at number one. Like Harvard and the other celebrated schools on this list, the university does not merely rest on its laurels. According to PayScale, the median mid-career salary of graduates is a healthy $122,000.
9. Babson College — Mid-Career Median Pay: $121,000
Last, but certainly not least, is tiny Babson College. More so than any of the other institutions on this list, Babson students focus on a capitalist education, and its program in entrepreneurship is ranked number one by U.S. News and World Report. Among its alumni are dozens of CEOs and corporate leaders including, Home Depot co-founder Arthur Blank and former Comcast Vice-Chairman Michael Angelakis. Given the well of business talent, it is hardly surprising that Babson graduates' median mid-career salaries are $121,000. The Babson World Globe, placed prominently on campus, reflects the school's outsize ambitions.