The Caitlyn Jenner Halloween Costume Is Now on Sale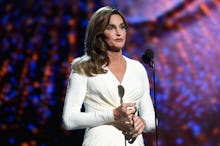 At least three websites have begun offering Halloween costumes based on the Caitlyn Jenner Vanity Fair cover that went megaviral when it was released in June.
The companies, Consumer Super Center, Wholesale Halloween Costumes and Anytime Costumes, are selling the look, which consists of a reproduction of Jenner's white satin bustier, a wig and an identifying sash. On a 30-something-year-old-man, the whole effect looks something like this:
Jenner's original look, courtesy of photographer Annie Leibovitz, was this:
"If you want some 'Vanity' this Halloween then try wearing the Unisex Call Me Caitlyn Costume," reads the description for the piece on the wholesale website. "This ensemble is designed after the one worn by the newly transformed Olympic gold medalist as she made her debut on the cover of a magazine and will make you the top news story of the night when you show up to party dressed as her."
Another website, Costume Super Center, urged wearers to "feel empowered" while donning it, promising a "voluptuous chest" and that "you'll definitely stand out."
Another outlet, Buy Costumes, sold this alternate "Olympic" version of Jenner, according to BuzzFeed, though the listing appears to have since been removed.
And while it has been said that imitation is the highest form of flattery, Jenner fans online were not amused by the new look. A Change.org petition to still another site, Spirit Halloween and its spokesperson Trisha Lombardo, demanded the company back away from plans to sell their own version of the costume.
Twitter was nastier still.
While the costumes were likely not meant to be malicious, the politics of transgender representation are complicated. 
"It's conceivable that Jenner's cisgender male fans might want to dress up as her for Halloween — even famous baseball player Jose Canseco pledged to show his support for Jenner by donning drag for a bit," wrote Daniel Villarreal at Unicorn Booty. "But transgender identity isn't a costume, and selling it as such contributes to the negative idea that trans women are just 'men playing dress up' or, worse, men masquerading as women with the intent of sexually deceiving heterosexual dudes."
On the other hand, for those interested in some transphobia but not quite feeling the Caitlyn look, there's always the "Tranny Granny," again courtesy of Wholesale Halloween Costumes. 
h/t BuzzFeed