This Simple Innovation Could Help Us Stop Filling Landfills With Our Clothes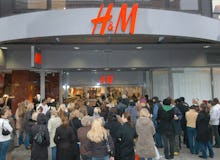 Twenty-one billion.
That's how many pounds of clothing, shoes and accessories end up in landfills per year, thanks to Americans' habit for tossing clothes. 
That post-consumer textile waste, as it's called, is the ugly outcome of our love for trendy clothes. It's never been easier to snap up those cheap embellished tank tops, printed pants or maxi dresses from "fast fashion" stores like Forever 21 and H&M, only to ditch them months later and send much of them, whether we realize it or not, to landfills.
It's a massive problem that H&M is hoping to take on, with a new clothing recycling contest. The Global Change Award, announced by the retailer on Tuesday, is offering a $1 million grant for those who can come up with innovative ways to recycle clothes, the company's chief executive, Karl-Johan Persson, told the Guardian.
Five winners will share the grant, which aims to take on "one of the biggest challenges facing today's fashion industry – to create fashion for a growing population while reducing its impact on the environment," the company states in a press release.
That includes one strategy in particular: recycling.
The winners will be charged with developing better ways to recycle clothing, something H&M has already started to do. The stores give shoppers a discount for turning in their unwanted clothes, and H&M is launching a line of denim using recycled cotton from the donations, an effort that contributes to what they call "closing the loop." 
The new contest is trying to innovate the recycling process.
"No company, fast fashion or not, can continue exactly like today," Persson told the Guardian. "The [prize's] largest potential lies with finding new technology that means we can recycle the fibers with unchanged quality."
Atoning for our clothing sins: It's just one piece of a company trying to atone for its past sins. As one of the world's leading "fast-fashion" companies, H&M is trying to help fix a problem they've had a big part in perpetuating. H&M's clothing is remarkably cheap, making impulse buys all the more tempting. It's part of the company's strategy of constant novelty.
"We want to surprise the customers," Margareta van den Bosch, the company's style adviser, told NPR in 2013. "We want to have something exciting. And if it's all the time hanging the same things there, it is not so exciting, I think."
Those impulse buys might be aggressively trendy to feel fresh, but they're often times poor quality, Elizabeth Cline, author of Overdressed: The Shockingly High Cost of Cheap Fashion, told NPR. That means we buy up trendy items by the pound, but toss them off without any intention to keep them for the long haul. 
Some of those items are donated, but rarely. According to the Council for Textile Recycling, 85% of old clothes end up in landfills; the average person in the U.S. throws out 70 pounds of clothing annually. Needless to say, all of that hurts the environment and just sits in unsightly landfills worldwide.
Donating clothes, creating denim out of old items — they're small steps, but ones worth taking. Being on-trend has never been easier, but the cost of being trendy is more than what we pay at the register.
h/t The Guardian