Bernie Sanders Leads Hillary Clinton in Second New Hampshire Poll in a Row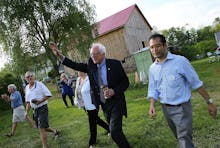 After nearly four months of campaigning, Sen. Bernie Sanders (I-Vt.) has emerged as the front-runner in the Democratic primary in New Hampshire.
In a new Public Policy Polling survey of Granite State primary voters released Tuesday, Sanders jumped out a 7-point lead, with 42% support. Hillary Clinton, who led by 33 points in April, has the backing of 35%, according to new data from a sample of 370 "usual Democratic primary voters."
In his favor: This is the second consecutive New Hampshire poll to show Sanders with an edge outside the margin of error, which is +/-5.1% in this case. 
But Sanders is not only winning the support of Democratic voters. He's charming them. Seventy-eight percent said they had a favorable view of the Vermont senator, while only 12% registered an unfavorable opinion. 
"The main story in New Hampshire is how universally popular Sanders has become with the Democratic electorate," PPP director Tom Jensen said in the release accompanying the poll.
Clinton, meanwhile, has seen her favorability rating sour over the course of the year. In January 2014, she had an 86/10 advantage among New Hampshire Democrats, which ebbed to 78/10 by April 2015, before taking a statistically significant plunge in this latest round. Now, one-quarter of respondents say they viewed Clinton unfavorably. Only 63% still see her in a favorable light:
What's changing? The easy explanation is that Clinton has become bogged down in a slow-rolling scandal over her use of a private email server during her time running the State Department, while Sanders has powered through with the support of an online grassroots army and mostly positive (if sparse) coverage in the mainstream media. 
But a closer look at the PPP survey suggests the divide is more deeply ingrained in the Democratic Party fabric. Sanders leads Clinton among those who describe themselves as "very liberal" and "somewhat liberal" by 9 points and 13 points, respectively. His favorability numbers among those voters are even higher: 91% and 81%.
Not coincidentally, Clinton trails with younger voters — that is, anyone 65 or below. While she leads with seniors 51% to 34%, Sanders enjoys a 28-point advantage with the 18 to 45 crowd, 53% to 25%. Among 46- to 65-year-olds, he leads with 39% to Clinton's 32%. (This group has the most undecided voters, with 14% who have yet to make up their minds.) 
Challenge up ahead: So far, Sanders has successfully managed to channel passion into progress in the polls. It's easy for campaigns to dismiss these numbers as mere snapshots of the electorate — and when the picture is less than pretty, they do it with gusto — but for supporters, especially those backing an underdog like Sanders, a poll like this provides the closest thing to tangible evidence their work is paying dividends.
The question, now, for the "Sanderistas," is whether they can translate his growing popularity into actual votes. Clinton's seniors will be there to cast their ballots on primary day. Can Sanders count on his young supporters to meet them at the polls?