This Mom's Beautiful Letter to Anna Duggar Says All Women Should Be Raised to #BreathFire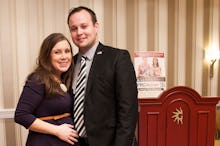 Jessica Krammes Kirkland is not a celebrity. 
On her website, she self-identifies as "a mother of two young daughters" who is "a passionate advocate of education and empowerment for women and the idea of raising strong girls."
On Thursday at 9:16 p.m., however, Kirkland's public profile began to rise after she posted a long message on Facebook about Josh Duggar's molesting of a number of young girls, operating an Ashley Madison account and the religious strictures that she said would prevent Duggar's wife, Anna, from breaking out of it. 
"Anna Duggar was taught that her sole purpose in life, the most meaningful thing she could do, was to be chaste and proper, a devout wife, and a mother," Kirkland wrote in her Facebook post. "Anna Duggar followed the rules that were imposed on her from the get-go and this is what she got in reward- a husband who she found out, in the span of 6 months, not only molested his own sisters, but was unfaithful to her in the most humiliating way possible." 
Kirkland closed the message with a memorable kicker: "As for my girls, I'll raise them to think they breathe fire."
Josh Duggar, who appeared along with his family on TLC's 19 Kids and Counting, saw that legacy crumble in May when InTouch Weekly reported he had molested multiple girls, including his own sisters, as a teenager. Last week, he further confessed to "being unfaithful" after his name was revealed in the Ashley Madison hack. 
For her part, Anna Duggar is not likely to seek a divorce. "Anna will not leave him," a source close to the family told People magazine. "As with her in-laws, she is turning more to her faith than ever. She and Josh are probably praying around the clock right now, I would assume."
In the five days since Kirkland uploaded the message, it has been liked more than 428,000 times and shared more than 235,000 times. 
Since the post, the hashtag #BreatheFire set the Internet alight as a beacon of female empowerment. On Twitter, Kirkland's message spread like wildfire.
Mic reached out to Kirkland, who was unavailable for comment. Read Kirkland's full message here.