Free the Nipple Campaign Moves to Springfield, Missouri Where Debate Wages Over Nudity Law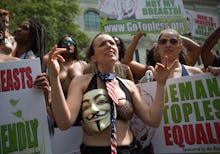 Alysa Berrer, an organizer with Springfield, Missouri's so-called Free the Nipple campaign, said she doesn't think women's nipples should be treated any differently than men's. City Councilman Justin Burnett, on the other hand, said during Monday's city council meeting he wants Springfield to expand its indecent exposure law to make sure women's breasts stay fully covered in public. 
Springfield residents debated Monday whether to revise a city ordinance that requires women's nipples to be hidden in public. Springfield law defines "nudity" as it relates to women's breasts as "the showing of the female breast with less than a fully opaque covering of any part of the nipple." 
While some are calling to change the ordinance to make it illegal for women to show any part of their breasts publicly, Burnett's request would alter the language of the law to compel women to cover their breasts from the top of the areola down, KSMU reports. 
Berrer and others held a topless rally Sunday in downtown Springfield as part of the larger GoTopless Day aimed at removing the stigma around women's breasts. 
"We are sparking a conversation about women's rights and equality for everybody to be exactly the same, and for them to stop sexualizing the female breast," Berrer told KYTV. The topless demonstrators haven't gone unnoticed, especially since Sunday's rally wasn't the first time women had shown their breasts in protest of the indecent exposure law. Earlier this month, dozens of protesters took part in a Free the Nipple rally in the city's downtown. Many of the women were topless but wore tape over their nipples to comply with the indecent exposure ordinance, the Springfield News-Leader reported. 
One man who supported Burnett's ordinance change said the law in its current form "brings crime, it bring pornography, it brings all sorts of sexual activity and lawlessness and things like that," KSMU reported.
Activists took umbrage with such reasoning. "The sexualization and objectification of a woman's body is appalling," Christine Anderson said during the city council meeting. The council will reportedly hear further arguments in the breasts debate at their next meeting. 
A larger trend: The debate has picked up steam around the United States and the world because, in many places, men are allowed to go shirtless where women must cover up. For many activists on the pro-nipple side of the debate, it's about much more than women wanting to go topless in public: It's about gender equality. 
"Men fought for the right to go topless in the '30s and women are fighting for it in 2015," Heidi Lilley, who helped organize a weekend Free the Nipple event in Hampton Beach, New Hampshire, told WGME. "It's time for us to have that same right as men."
On Sunday, demonstrators in cities across the country took their tops off to advocate for the equal treatment of men and women when it comes to baring their chests in public. In New York City, activists held a Nipple Pride Parade in part to protest Mayor Bill de Blasio's recent comments about topless entertainers in Times Square.