What Millennials' Favorite Porn Can Teach Us About Race in America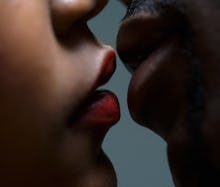 We know from statistics that most of us have masturbated to porn at some point. But we rarely openly discuss it — nor do we talk about what type of porn we actually masturbate to.  
We got a bit of a clue, however, from Mic's recent collaboration with Pornhub, which analyzed millennials' porn tastes. When it comes to porn stars, data for the most searched-for adult film stars had an interesting pattern: Among the top 20 are Asa Akira, Mia Khalifa, Pinky, Sunny Leone and multiracial performer Skin Diamond — none of whom are white. And for genre search terms favored by millennials, "ebony" and "black" were among the top 12.
The data suggests our tastes have somewhat shifted from the buxom blonde, blue-eyed porn star stereotype popularized by performers like Jenna Jameson and Jesse Jane. Akira told Mic she considered the rise of stars like herself a sign that the industry and our tastes are progressing to the point where, eventually, "there might no longer be such a thing as a "quintessential pornstar'" who fits that buxom blonde model.
But the reality about our own "progressive" porn tastes and the industry's progress may be more complicated.
A diverse array of stars: As a matter of numbers, porn is growing diverse in every sense, from sexual orientations to fetish types. That includes racial and ethnic diversity among genres and stars, as the norm evolves beyond the Playboy bunny stereotype.
Jeff Dillon, who works in business development for the adult website GameLink, told Mic he's seen the beauty standards for top-selling adult performers change over time.
"If you look at 10, 20 years ago, when I first started in the industry, the typical porn star — [who] really sold — was blond hair, big boobs. If you look at the 'contract stars [performers on contract at big companies like Wicked and Vivid],' that was their formula," he said. "That was the mold that we had. We've seen a lot of that change. We're seeing people like Skin Diamond coming up."
None of the production companies Mic spoke with were able to cite specific sales figures for so-called "ethnic" porn releases. But on Pornhub, 9 out of 28 videos on the all-time most-viewed page featured performers of color. On the website for the popular production company Digital Playground, 10 out of 20 of the videos on the most-viewed section featured women of color.
But that doesn't necessarily indicate a more progressive porn industry, much less progressive consumer tastes. Within the business, insiders are skeptical, citing industry history in which black actors rarely receive top billing and have traditionally been paid half of what white actresses make. 
"Adult media is the only major business that allows for the practice of exclusion based upon race," African-American performer and director Lexington Steele said in a 2013 interview with the Root. 
Nyomi Banxxx, a black performer turned radio host who entered the industry in her 30s, told Mic that while she didn't have any overtly negative experiences involving racism, the industry isn't yet truly accepting of performers of color. Women like Akira and Khalifa, she said, are exceptions that prove the rule.
"I would like to see more women of color in the industry, and have them be considered more mainstream," she told Mic. "Instead of having just one Asian star or just one black star, producers need to allow more than one person in those categories to go and be successful."
That might come as the number of videos grows. "I think there are so many more girls in porn now, which leads to more variety," said Joanna Angel, performer and owner of the alt porn production company Burning Angel. From her perspective, she told Mic, the industry was less diverse in the past few decades simply because there were fewer active performers and production companies.
"Honestly, I don't think people's tastes have changed," said Angel. "I am sure there were plenty of consumers [in the 1990s] who would have preferred to jerk off to a black or Indian girl or girls from different ethnicities... It just wasn't as readily available."
Playing into racial stereotypes: Porn that does feature performers of color is often relegated to subgenres like "ebony," "Latina" or "Oriental." Often, this content exploits offensive racial stereotypes, such as some of the top-viewed videos in Pornhub's "ebony" section, which features titles with the terms "hood bitch" and "thug love."  
In a recent Fusion article, multiracial porn star Janice Griffith spoke out against "websites assigning racial categories to her," calling out the tendency to rely on categories that play into our stereotypes like "ghetto whore" and "Asian slut."
Some, like Adam Grayson, CFO of top porn production studio Evil Angel, say those genres are mere reflections of our tastes, guided by "purely hormonal, irrational decisions."
"If a guy is attracted to a black women or transgender woman, it is almost certainly not a conscious decision," Grayson told Mic. "We can talk all we want about progressivism in general changing preferences, but I know a lot of people around this business are fans who have very particular tastes."
"In my opinion, when someone wants to jerk off, they are looking for a very specific fantasy or sexual act," Angel said. "The more specific they can get, the greater chance they will be satisfied and not go elsewhere to find what they want. People like what they like, and they like it in categories because categories help them get off quick and easy."
But what we like doesn't develop in a vacuum. Much like anything else, who we're attracted to is largely shaped by cultural context. Black women, for example, have long been sexualized by deeply entrenched racist tropes.
For that reason, there's pushback afoot. TRENCHCOATx, a porn site founded by performers Kayden Kross and Stoya, features neutrally named categories like "Girl/Girl" and "Girl/Boy" rather than crass search terms and racially themed categories. (Unlike websites like Pornhub, TRENCHCOATx requires a paid subscription.)
An increasing number of performers of color are also distinguishing themselves by taking control and directing their own videos and owning their own sites. "I think for a lot of women of color who you've seen come up, including myself, it's because we took charge of our own brand and started making our own stuff and doing things outside of the industry," Banxxx said. 
"Black porn sells, but it will always be a niche. It will never be mainstream. Asian porn will always be a niche. Remember, we're in white America."
Striving for a better porn experience: Even if the increased "diverse" porn options don't reflect progressive thinking, at least they present the opportunity for us to face racial issues (albeit in a highly non-normative context). Chauntelle Tibbals, a sociologist who focuses on gender and sexuality, sees categories like "ebony" and "Oriental" as catering to our society's rapidly evolving and complex understanding of racial issues.
"You might see Asian porn and think, 'Wait a minute, why are we still looking for Asian porn? Is that because it's the term that's offered, or is it the term that we're searching for?" she told Mic.
We don't live in a post-racial world; our society isn't colorblind, and neither are our sexual urges. We're therefore left to grapple with how we see color and how — and why — we draw lines. 
"It makes me wonder, what if a company were just to stop doing it?" Tibbals asked about using racialized categories. "What if Pornhub were to change their search terms and perhaps just search by performer, for example? Essentially, that might reflect something and be taking a step that is needed."
It might. But in the meantime, porn has a ways to go.