Nearly 20 Years Ago, Lauryn Hill Made an Album So Perfect It Nearly Ruined Her Life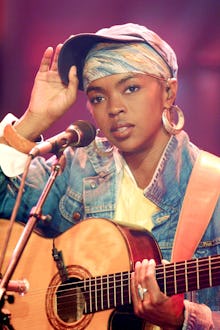 Lauryn Hill only wanted to make honest music.
"There's too much pressure to have hits these days. Artists are watching Billboard instead of exploring themselves," she once said, discussing her groundbreaking release The Miseducation of Lauryn Hill. "I wanted to make honest music. I don't like things to be too perfect, or too polished. People may criticize me for that, but I grew up listening to Al Green and Sam Cooke. When they hit a high note, you actually felt it."
Seventeen years ago Tuesday, Hill was poised to build an artistic empire that would have changed the future of R&B forever. With the power of one record she did end up rerouting the genre, but that honest album catapulted her into the center of an alien world of musical celebrity. The chaos that followed all but forced her to withdraw from public life; rumors that she had lost her mind, become a staunch racist and joined a cult followed her into silence. Swept into the vortex of fame and fortune, she couldn't find the balance to become a leader in the space. While she's gradually starting to do more shows and has recorded new music, we have yet to hear another studio album in nearly two decades. 
But we still have Miseducation — one of the most undeniably powerful statements of modern R&B the world has ever heard.
The impact: Without even trying, Hill ended up creating one of the most critically and commercially successful albums of her day. An album's numbers can't always illustrate its impact, but in this case they do: The first week out it sold more than 420,000 copies, breaking the first week sales record for female artists. It went eight times platinum, receiving rave reviews wherever it landed. Come Grammy time, it was nominated for 10 awards and won five, making Hill the first woman to achieve either feat. It also became the first hip-hop album to win Album of the Year, introducing the genre's stylings to a much wider audience.
The organic instrumentation and heartfelt lyricism has become the highest standard of excellence for so many of our greatest songwriters — including Beyoncé, Adele, Drake, Kanye West, and D'Angelo. "Lauryn had that blend of toughness and soulfulness, melody and swagger," John Legend told Rolling Stone in 2008. "She did it better than anybody still has done it. People are still trying to capture that moment."
The conception: The inspiration guiding the album ran in parallel to another miraculous act of creation — a pregnancy.  "When some women are pregnant, their hair and their nails grow, but for me it was my mind and ability to create," Hill told Ebony in 1998. "I had the desire to write in a capacity that I hadn't done in a while. I don't know if it's a hormonal or emotional thing ... I was very in touch with my feelings at the time."
She spoke directly to the feelings surrounding her pregnancy on the album's' fourth track, "To Zion," one of the album's most moving and conversational records. "'Look at your career,' they said, 'Lauryn baby use your head.'" Hill sings, mimicking those who encouraged her to get an abortion. "But instead I chose to use my heart." 
In the outpouring of creativity that followed, Hill wrote over 30 songs, which were eventually whittled down to 14 absolute gems of confessional hip-hop and R&B. Neither Hill nor the world were ready for the change they would bring.
The fallout: Miseducation swept Lauryn Hill up into a whirlwind of popularity and power struggle. "Lauryn became an international superstar," Jayson Jackson, Hill's former manager, told Rolling Stone. "She couldn't go to the grocery store without makeup, and I think that had an adverse effect on her."
Adding to that pain, a few months after the album's release, Hill got entangled a massive lawsuit with a team of musicians called New Ark, who had helped her write and record Miseducation. New Ark argued they deserved additional credit for helping write and produce 13 out of the album's 14 songs. A two-year legal battle ensued, which Hill eventually settled for a reported $5 million just to see the madness end.
The impact on her creativity was crippling. Hill began to withdraw from public life, slipping further and further from the limelight. "The whole concept of success, to me, is a little bit warped, because what are you being successful at in your house trapped? That's not successfully living," she told the Academy of Achievement in 2000. "My concept of successful living is escaping the matrix, as we've talked about."
Her public statements started to take on more and more of this inscrutable, borderline mystic quality, culminating with a 2001 MTV Unplugged 2.0 concert recording, the only album she's released since Miseducation. She filled the gaps between songs with long-winded explanations of her personal struggles.
"I used to be a performer, and I really don't consider myself a performer anymore," she says on the album's "Intro" track, and later: "I had created this public persona, this public illusion, and it held me hostage. I couldn't be a real person, because you're too afraid of what your public will say. At that point, I had to do some dying."
Critics panned the recording as being a public breakdown — "too raw, too personal, too emotional," the Wall Street Journal wrote. In many ways, the harsh response sealed the deal on Hill's complete retreat from public life.
"One of the last things she said to me in a real conversation was, 'How do I keep it so hot and good, Jayson?'" Jackson told Rolling Stone before Hill's public evanescence. "I was like, 'I don't know if you can. The only thing you can do is as you grow, just make records.' And if she wants to take the rest of her days and raise her family or write poetry or whatever she chooses, God bless her. And thank you for doing it when you did."
Every fan who's ever been moved by Miseducation would likely echo the same sentiment. That album touched the world, and it will continue to do so no matter which direction Hill decides to take her art next.