The 8 Best U.S. Cities for Theater That Aren't New York or Los Angeles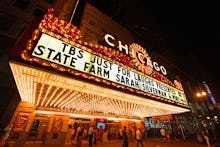 A night at the theater is a special experience. While there are ways to see good theater from the comfort of your own home, getting out of the house gives a theater experience a new vibe. Live theater means the chance to dress up and enjoy vivid performances right in front of your eyes. It's not ordinary because it's a fun break from routine.
If you're not in Los Angeles or New York, however, this can seem hard to swing. Luckily, there are plenty of other cities in the country that have surprisingly strong rosters of theatrical talent. These are eight U.S. cities that provide thriving theater scenes far from the Great White Way.
Boston
One of the most culturally significant theater presences in Boston is the American Repertory Theater. Many shows have transferred from here to Broadway, including this past season's hit Finding Neverland. Currently, they're producing a musical adaptation of the movie Waitress with a score by Sara Bareilles. It's a fun way to see New York's newest hits before they join the Broadway ranks.
Chicago
When you think Chicago, you probably think Second City. The comedy troupe is famous for producing comedy geniuses like Tina Fey, Rachel Dratch and more. Think about it: Saturday Night Live and 30 Rock wouldn't exist without Second City. That's more than enough reason to see a show.
The theater scene goes far beyond comedy, however. Between the touring and local scenes in the city, it's worth it to explore. 
Minneapolis
Did you know Minneapolis sports a higher number of theaters per capita than any U.S. city bar New York? The scene features a mix of shows on tour and local productions. Of particular note is the Old Log Theater, one of the longest-lasting theater companies in the country. They're entering a 2015-2016 season that opens with a new show called The Velocity of Autumn.
Seattle
The thing that sets Seattle apart from its bigger-city brethren in New York and Los Angeles is risk-taking. According to an article for Backstage magazine, "Actors are encouraged to step out of their comfort zones and expand their artistic palettes." This is the benefit of not having Broadway's economic burden — theaters in Seattle can conduct more experiments and create even more ambitious art.
Orlando, Fla.
A strong rule of thumb is that anywhere where Disney has put its roots down will be a solid theater town. Orlando features everything from Mickey Mouse to the Bard. If you're looking for something a bit stranger, Cirque du Soleil has a show at Downtown Disney called La Nouba.
The scene is only growing too. 2014 brought a new performing arts center to downtown. Valued at $429 million, the space features everything from ballet to Broadway.
San Francisco
Opera is the big game in San Francisco, boasting the second-biggest company in the country. Some of the shows queued up for the coming season: Sweeney Todd, The Barber of Seville and Carmen. Besides opera, the Bay Area's biggest city also has dozens of theaters featuring classic and original works.
Detroit
Detroit's theater scene is, like other cities', a mix of the big names, dance performances and classical work. You can add to that list, however, a strong improv scene. Between Go! Comedy, the Planet Ant theater and more, there are plenty of ways to tickle your funny bone far away from the Second City and Upright Citizens Brigade hub cities.
Miami
South Florida has a strong theater scene thanks to its intersection of different cultures. Latin, LGBTQ and Jewish communities thrive in Miami, creating a vivid theater tableau that includes symphony, opera, ballet and more. The Adrienne Arsht Center is particularly notable for a packed calendar and fun special events like a Mozart festival.