Melissa McCarthy Posted an Awesome Tribute to the Girl Power of the New 'Ghostbusters'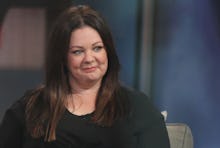 "Girl power" is the name of the game in the new all-women Ghostbusters movie — and that extends behind the camera, too.
In an Instagram post addressed to Ellen Degeneres and The Ellen Show, star Melissa McCarthy showed off the women involved in creating the reboot, both in front of and behind the camera. In addition to actresses McCarthy, Leslie Jones, Kate McKinnon and Kristen Wiig, there are 50 cast and crew members in the photo.
It's a pretty amazing display — there are women involved with stunts, costumes, props, producing and more. It's an important reminder that there's not just representation in front of the camera to consider.
Yes, diversity in the acting and directing fields is disastrous. But for millions of young women studying or eager to start studying film, there are a multitude of crafts and fields to explore. To see so many women representing in these positions is impressive not for being unusual, but for how ordinary we hope it can one day be.
The response to the new all-female Ghostbusters remake has so far been unfortunately divided. On one side, there are scores of moviegoers eager to see tremendously funny actresses take on iconic roles and turn them into something new. On the other side are complainers who say these women aren't "real" Ghostbusters.
To have so many women working behind the scenes on this film, however, shows that director Paul Feig and studio Columbia Pictures are practicing what they preach and refusing to back down. The feminism of the casting isn't just for show; this photo is what feminism in Hollywood really looks like.
Fans excited to see what this team puts together will get their wish upon release July 15, 2016.