Miley Cyrus-Flaming Lips Project 2015: What We Know About Their Upcoming Collaboration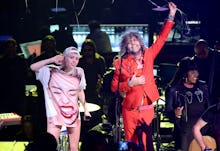 Rumors have been swirling about an upcoming release date for the Flaming Lips' new project with Miley Cyrus ever since the band's frontman, Wayne Coyne, announced in May the group would be working on a project with the "Wrecking Ball" singer.
Coyne told Billboard the project comprises seven tracks written by Cyrus and the Flaming Lips and recorded over the last year. Cyrus premiered a surprise collaboration, titled "Tiger Dreams," at an Adult Swim party May 13 in New York, shouting into the crowd, "No one's ever heard this shit, unless you've been at my garage, so fucking get excited." 
Billboard reported a source saying the project was coming together, but noted: "It's not a Miley record." 
"It's a project she's been working on with the Flaming Lips. It's amazing, it's incredible, it just needs to be understood that it's not a typical, straightforward Miley record — we don't want there to be confusion in the marketplace ... It is somewhat psychedelic rock, but Miley's writing sensibilities lean toward pop, so it's a nice, healthy mix of both, but at the end of the day, it is Miley."
"She does the pop thing so great, so it still feels pop, but a slightly wiser, sadder, more true version," Coyne tells Billboard of the collaboration. "She realizes she's Miley Cyrus, but she doesn't act like she's all powerful. Plus, she can fucking sing. She can do 100 takes, and they'll all be different and good."
Coyne also told Billboard the two get along well, despite what some audiences may see as two different worlds joining forces in the industry. Coyne and Cyrus have been recording their tracks together in their home studios and are planning on releasing the project for free. 
Although it is still unclear where the project will be dropping, Music Times reports Cyrus is still signed with RCA Records. In fact, the 22-year-old performer was ready to buy out her contract with the label if they weren't willing to let her release the project with the Flaming Lips for free.