6 Ways the Fashion Industry Keeps Proving It Doesn't Understand "Plus-Size" Women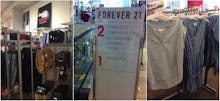 After three years of planning, Melissa McCarthy is finally launching her women's clothing line this month. A few noteworthy features of Melissa McCarthy Seven7: There will be no distinction between the "plus sizes" and "regular" sizes, and the clothing will all be sold together, sizes 4 through 28.
The features are no accident. Frustrated by a lifetime of personal shopping experiences, including having to find clothes "by the tire section," McCarthy told Refinery29, "Seventy percent of women in the United States are a size 14 or above, and that's technically 'plus size,' so you're taking your biggest category of people and telling them, 'You're not really worthy.' I find that very strange."
Strange indeed. As McCarthy points out, according to Business Insider, the plus-size clothing industry is worth $17.5 billion. And yet stores and brands seem to fundamentally misunderstand their customers, time and time again. Here is what the retail industry is still getting wrong when it comes to plus-size clothing.
1. When the term "plus size" is thrown around as if it has one meaning:
McCarthy has slammed the term "plus size" and with good reason. Considering the average American woman is supposedly a size 14, separating out those above size 12 (or even 8 or 10) as "plus size" is isolating, not to mention confusing. Just see the backlash last year, when Elle.com pointed out that size 10 model Myla Dalbesio "is what the fashion industry would — still, surprisingly — call 'plus size.'"
Add to that confusion the fact that some models are told they aren't big enough to be plus size. "Smaller models may be padded in order to fill out plus-size clothes, giving them body shapes that might be more perfect than those plus-size bodies actually found in nature," said BuzzFeed in its report, "This Is What Plus-Size Clothes Look Like On Plus-Size Women."
That confusion extends to design, in which too many stores create clothing assuming plus-size women all have similar shapes. "Plus sizes with darts that fall in the wrong spot. Not all plus-size girls have plus-size boobs," a shopper named Jessica told the Huffington Post. The lack of variety and research reflects an ignorance as to who a "plus-size shopper" actually is and what she needs.
2. When plus-size shoppers are segregated in stores:
Separate stores have been the norm for plus-size shoppers since Lane Bryant was founded in the early 1900s. That can have its advantages, if the stores are particularly attuned to certain clothing needs. But segregating shoppers in regular stores into separate departments can be plain offensive. 
"I feel like there's a big thing missing where you can't dress to your mood above a certain number," McCarthy told More Magazine. Malls "segregate plus-size" women. "It's an odd thing that you can't go shopping with your friends because your store is upstairs hidden by the tire section." 
Tim Gunn of Project Runway similarly called out Lord & Taylor for its separate plus-size department. "I think it's the eighth floor, and it's just a department called 'Woman.' It's rather devastating," he told the Huffington Post in 2013.
It doesn't help when those sections are pitifully small.
3. When plus-size shoppers are kept out of stores entirely:
Many plus-size shoppers turn to online shopping as their only option, when stores like J. Crew and Old Navy don't carry them in stores. But this comes with its own set of problems, as Kenyatta Jones, fashion designer and star of We TV's House of Curves, said on HuffPost Live:
"At the end of the day, each designer designs in a different way. So if you're stuck only shopping online, nine times out of 10 you're going to get something that doesn't fit ... Fit is very important for a fashion designer for us, but if you're ordering it online as opposed to trying it on in-store, you're just going to end up sending it back and then you have nothing."
Worse is when stores don't even make clothes available online, such as Abercrombie & Fitch and Lululemon, which don't cater to women above a size 8 and have been both accused of openly fat-shaming. 
4. When brands act ashamed of their plus-size shoppers:
Even when designers such as Chanel, Alexander McQueen and Yves Saint Laurent do make clothing for bigger women (because, well, money) and luxurious department stores such as Saks Fifth Avenue finally integrate all size ranges into one department, many designers still refuse to openly advertise or discuss that they make plus-size designs.
As one Twitter user pointed out, even stores like Forever 21 sometimes neglect to call out their plus-size sections. 
5. When plus-size clothes totally ignore fashion:
One plus-size shopper, Roxy, summed up the state of most plus-size clothing on her Tumblr, in reference to a Lane Collection shirt: "One shoulder. Check. No shape, billowing. Check. Asymmetric hem. Check. Overpriced. Check."
Plus-size clothing is notoriously ugly, with three-quarter sleeved everything and handkerchief hemlines galore. "I just want to scream at the designers sometimes," wrote the Curvy Fashionista on her blog. Not only are the designs limited and boring, but they're often unflattering with no regard to actual trends. 
"If I would find a good shape the fabric was terrible, McCarthy told Forbes about buying clothes before creating her own clothing line. "No darts, no seams, no structure, just like, tents."
Because no matter what your size, looking like a big circus tent is every girl's dream — right?
6. When brands straight-up disrespect plus-size shoppers:
See above. Enough said.