Hurricane Katrina Anniversary: 11 Quotes That Sum Up the Aftermath of Gulf Coast Disaster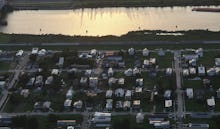 In the immediate aftermath of Hurricane Katrina, as the flood waters receded from New Orleans, they took with them any sense of normalcy the city had before the storm. The monster 2005 hurricane wrecked levee systems, flooded entire neighborhoods, damaged homes and businesses and hit residents like a wrecking ball.
Ten years after Katrina made landfall in Louisiana on Aug. 29, 2005, some parts of New Orleans have bounced back and look practically unscathed. However, many residents whose lives were overturned by the storm haven't forgotten the floods that brought New Orleans to its breaking point. 
Along with images and news footage, the things that have stuck in the country's collective memory are what people were saying at the time. Words carried great weight as the nation's leaders, the public and even celebrities tried to make sense of the utter devastation that was New Orleans in the wake of Katrina. 
Here's a look back at the Hurricane Katrina disaster through the words our leaders, rescue officials and eyewitnesses used.
U.S.  leaders described the devastation in New Orleans with a mix of shock, frustration and disbelief:
Former Mississippi Gov. Haley Barbour described the devastation in his own state as like a war zone:
At the same time, criticism of the federal government's handling of the disaster was mounting. The Bush administration and FEMA quickly came under fire for not seeming prepared for the disaster:
Rapper Kanye West famously lambasted then-president Bush during a live benefit concert for hurricane victims, which broadcasted Sept. 2, 2005 on NBC: 
Federal emergency responders said there was no way to prepare for such a catastrophe: 
Former Louisiana Gov. Kathleen Blanco shouldered the blame for the bungled emergency response: 
All the while, New Orleans residents were left to pick up the pieces of their broken lives: 
h/t the BBC and Associated Press