This Company Shows How Beautiful Fashion Can Be Without Cultural Appropriation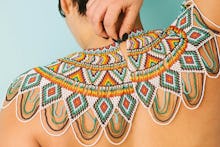 Jessica Sanchez remembers first being drawn to the vibrant colors of the beaded necklaces sold on the streets of Bogotá, Colombia. They hung on Styrofoam boards, featuring hundreds of tiny beads woven into dazzling geometric patterns. They were stunning and ready-made for Instagram love.
The creations, Sanchez soon noticed, also adorned the necks and shoulders of the indigenous women selling them, she told Mic. The women were part of the Emberá Chami, an ethnic group in Colombia known for a variety of artisanal crafts, including pottery and beadwork. 
Although she couldn't directly communicate with the women, who speak Emberá dialects and little Spanish. A 32-year-old Colombian-Canadian, Sanchez said she felt a connection to the beaded pieces and the artisans behind them. "There's so much energy and intention in each of the pieces," she told Mic. So she bought 10 necklaces, thinking she might resell them.
Little did she know that her purchase in 2012 would lead her to open Santa Isla, a boutique that fuses her creative vision and the craftsmanship of the Emberá Chami artisans in Colombia. Along the way, Sanchez would partner with advocacy groups to learn more about the Emberá community, connect with a family of skilled artisans and finally, stitch together a business plan that respected and helped continue their cultural traditions.
"It's about preserving that culture and being able to showcase that outside my country and outside their community," Sanchez said. "It's all about cultural preservation for me."
Cultural appreciation, not appropriation: The Emberá Chami believe that women carry the weight of the world on their shoulders, Sanchez said. As such, she said, the necklaces (called "okamas" in the Emberá dialect) are a way of adorning and glorifying the symbolic weight women carry on their shoulders. Each handcrafted piece can take anywhere from a few hours to a month to complete.
While drafting up her business plan, Sanchez said it was important to include local artisans throughout the process. The Emberá Chami have been moving into the cities after being displaced by paramilitary conflicts in Colombia, according to Santa Isla's website, and persecution and class discrimination puts their cultural heritage is at stake, Sanchez said. 
For Sanchez, that heightened the importance of bringing them into the design process. Even if they weren't persecuted, the value and integrity of their work alone deserves honoring, rather than simply appropriating as so many fashion brands do, Sanchez said. 
"It was really important that it was not just me," Sanchez said. "I'm just the bridge ... Santa Isla is nothing without them, and it's important that they are acknowledged."
Finding a fashionable audience: To make it all happen, Sanchez sought out the help of indigenous community alliances in Colombia, connecting with a Emberá Chami man who introduced her to his family. Sanchez began buying custom necklaces from them, offering feedback on colors and patterns she liked. She paid the women upfront for the pieces and set out to sell her first 10.
Sanchez didn't have to go far. Before she even got back to Canada, a group of young, trendy women in Colombia — more inclined to logo-covered designer bags rather than indigenous art — each bought a necklace.
"The idea was they bought something and they knew where it was coming from and they felt compelled and wanting to share it," Sanchez said.
That sale made Sanchez realize that the traditional designs could be re-imagined to appeal to modern women. In order to up the appeal, Sanchez had tweaked her sales pitch to mention that the beaded pieces were waterproof and perfect for beachwear. With a contemporary spin on tradition craftsmanship, Santa Isla sales could help preserve the culture and traditions of the Emberá Chami. 
Carving out a space for cultural preservation: Santa Isla is still in its early stages, with Sanchez only beginning to dedicate herself full-time this past winter. She only collaborates with a single family in Colombia, but she's sold their work in countries from Canada to Nigeria. The small effort is important, though, for it shows an alternative path for an aspiring fashion company that's inspired by indigenous culture.
In June, for example, an indigenous community in Oaxaca, Mexico, considered legal action against French designer Isabel Marant for reportedly plagiarizing their designs. Textiles with prints inspired by Native American culture also risk appropriation, as was the case when the Navajo Nation sued Urban Outfitters for trademark infringement. Marginalized groups are often left out of the conversation — and the profits.
Stemming that tide is important for business owners like Sanchez and others, including Mriga Kapadiya. One half of the design duo behind Toronto-based clothing line Norblack Norwhite, Kapadiya works with Indian textile-makers for modern designs, while sharing the stories of ancient textile practices. Also a Canadian with Indian ancestry, Kapadiya said she often discusses with Sanchez their roles in preserving indigenous cultures and the urgency of their mission. 
"Those worlds can be so far apart," she said. "It's important for people like us and just people living in Colombia and India to create and carve out a space from a global standpoint to tell their stories."
That's why they support each other's businesses, among others. Kapadiya often wears Santa Isla necklaces and styles photo shoots with them. "I feel it's important to make it current and relevant for our generation and for the future before these art forms become extinct," she said.
In the meantime, Sanchez said she's looking forward to continuing to share the story of the Emberá Chami. Each necklace sold represents a new opportunity, she said.
"For me, they're like my babies," she said. "They're getting a home and their story is getting shared."