RentBoy.com Offices Raided Amid Prostitution Investigation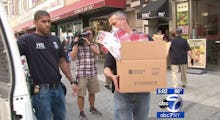 Agents from the U.S. Department of Homeland Security and New York Police Department have arrested the CEO and six current or former staff members of the largest male escort website as part of a prostitution sting operation. RentBoy CEO Jeffrey Hurant and six others were arrested at the company's headquarters in New York during a raid targeting the website for establishing, promoting and managing illegal acts of prostitution, according to Pix11. 
Although an initial alert warns Rentboy.com users the site cannot be used "for the advertising of sexual services or to engage in activities requiring the payment of money for sex or other illegal activities," prosecutors are saying the company has been profiting through a thinly veiled prostitution operation.
The website, which hosts ads for male companionship, massages and live video sessions, has been essentially operating as "a global criminal enterprise," said Glenn Sorge, acting special agent in charge of Homeland Special Investigation, the department's investigative arm, in New York.
BuzzFeed News reports Kelly Currie, the acting U.S. Attorney for the Eastern District of New York, said in a statement, "As alleged, Rentboy.com attempted to present a veneer of legality, when in fact this internet brothel made millions of dollars from the promotion of illegal prostitution." 
RentBoy's profits from the last five years surpasses $10 million in gross proceeds, with nearly 10,500 members and 500,000 unique visitors checking the site each day. Users pay a monthly fee of $59.95 for the site's services, and can pay upward of hundreds of dollars to advertise services on the website. 
The site has been operating since 1996 and features advertisements and users from over 2,100 cities worldwide, according to Pix11. If Hurant and the six RentBoy employees are convicted, they face up to five years in prison and fines up to $250,000. Prosecutors are also seizing $1.4 million in profit after warrants were issued Tuesday afternoon. 
RentBoy users and activists immediately took to social media Tuesday to condemn the arrests:
Read through the full criminal complaint for Rentboy, provided by Pix11, here.