Donald Trump's Disrespect for Female Reporters Goes Way Beyond His Feud With Megyn Kelly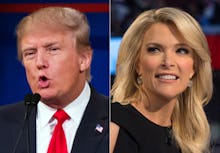 Many members of the media have criticized Donald Trump. The Washington Post's Joseph Curl, for example, recently called him "wicked stupid." Bret Baier opened the first Republican presidential debate on Aug. 6 by demanding that candidates pledge not to run as an independent should they not win their party's nomination — effectively putting Trump on the spot, because Trump has been clear about his intentions to do just that.
Trump has not been kind in response to journalists' criticisms. On Tuesday, he had Univision's Jorge Ramos thrown out of a press conference after Ramos pressed him on his stance on immigration. 
But no other journalist has received quite the amount of vitriol that Fox News' Megyn Kelly has. After asking Trump during the aforementioned debate about the language he has used in the past to speak about women (which includes calling them "fat pigs" and "dogs"), Trump lost his cool. Shortly after the debate, he insinuated Kelly was on her period, prompting questions he believed to be unprofessional. Apparently, good girls aren't supposed to confront big boys about sexism.
Kelly took a 10-day vacation after receiving a slew of online hate. She came back on air Monday night to host her show The Kelly File, only to have Trump retweet a tweet that called her a "bimbo" and suggested the network take her off the air. "I liked The Kelly File much better without @megynkelly," Trump tweeted. "Perhaps she could take another eleven day unscheduled vacation!"
After weeks of silence, Fox News CEO Roger Ailes released a statement calling Trump's attacks on Kelly "disturbing" and "unacceptable." Other anchors at the network tweeted their support.
Trump quipped back, accusing Kelly of being bad at her job. "I do not think Megyn Kelly is a quality journalist," he said in a statement. "I think her questioning of me, despite all of the polls saying I won the debate, was very unfair." He continued his temper tantrum by singling Kelly out from the rest of the network. "Hopefully in the future I will be proven wrong and she will be able to elevate her standards to a level of professionalism that a network such as Fox deserves," he said. According to Trump, it seems that to be "fair" means to be silent.
Trump is hard on the media in general — he once referred to conservative pundits Charles Krauthammer and George Will as "losers" — but his disdain for Kelly borders on obsession.
According to a source inside Fox News that spoke to Mic, Kelly was subject to severe online harassment in the wake of the debate — something executives at Fox hadn't foreseen. "They didn't expect the backlash," the source said. "She was getting death threats. So she took time off in hopes that it will cool down. but it doesn't look like it's going to cool down."
This allegedly isn't the first time Trump has been dismissive toward female journalists, either. A female broadcast journalist, who preferred not to be named, told Mic that a year ago she received "a phone call from one of Trump's guys who said, 'Trump likes you. He sees you on TV all the time.'" The man then told her that Trump demanded she "meet him at the airport and drive with him to his meeting throughout the day and then at the end of the day he'll do [an] interview." When the journalist refused to spend time with Trump outside of the scheduled interview, she said Trump's team never wrote her back.
"Then a couple days later Trump's people called me to ask me if I had seen the exclusive they have to another female reporter," she said. "I said yes, and they were like, 'Well that could have been yours,' basically insinuating that the other female reporter agreed to spend the day with Trump. They're scum."
She told Mic she never spoke about this exchange, fearing Trump's backlash. "I would write a story about this myself if I wasn't so scared of getting on Trump's bad side," she said. "The last thing I need is him tweeting demeaning things about me."
Other questionable exchanges with female reporters have been caught on camera. During a July interview with NBC reporter Katy Tur, Trump responded to a legitimate question about his stance on immigration with, "Don't be naive. You're a very naive person." Back in 1992, Trump bragged about pouring red wine down the back of Marie Brenner, a female journalist who'd written a piece about him that he disapproved. A conservative female pundit, who preferred not to be named, told Mic, "For him it's all show business. He could care less how he treats women in public if it means he wins. It's all a big game."
There are many reasons to be worried about a Trump presidency, and the way he treats women in the media should be on that list. Silencing and bullying reporters is one step in the chipping away of our democracy that's frankly already all trumped up.